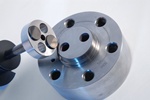 Small bore subsea valve specialist, LB Bentley have urged subsea operators, engineering procurement & construction contractors and suppliers to take a more joined-up approach if hardware is to keep pace with the extreme demands of new projects.
They state that better transparency and collaboration would enhance equipment reliability, bringing tangible safety and productivity benefits. This is particularly true of challenging applications, such as those associated with High Pressure High Temperature (HPHT) wells in the Northern Seas and Gulf of Mexico.
LB Bentley is calling for niche hardware components, such as small bore valves, to be recognized as solutions rather than treated as short lead time commodities. The firm maintains that any equipment itemized on critical components lists should be treated as an integral part of the subsea hardware jigsaw. In particular, the firm says that all critical component suppliers should be involved in technical conversations at the outset of a project.
John Drew, Engineering Manager at LB Bentley, believes that getting engineers together in this way would also help identify technology gaps that exist at a wider industry level. Establishing a cohesive approach could lead to more well-informed, intelligence-led research and development across suppliers' businesses. In turn, this would empower creative engineering and facilitate development of breakthrough ideas to solve problems.
"A more collaborative stance could also help identify emerging technology gaps. This would ensure engineers are focused on the long-term needs of the industry as well as immediate concerns of individual projects. We need to work together to ensure that subsea hardware engineering continues to meet the evolving demands of the industry."