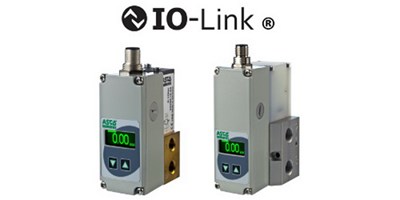 Emerson introduced its ASCO Numatics Sentronic Plus (Series 614) and Sentronic LP (Series 617) proportional pressure control valves with the integration of IO-Link® communications to provide cost-effective and reliable control and diagnostics in support of predictive maintenance practices. Using IO-Link communications to gain insight into these devices on the factory floor supports future implementation of Industry 4.0 and Industrial Internet of Things (IIoT) applications that will contribute toward greater plant reliability, availability and profitability.
The versatile Sentronic Plus and Sentronic LP valves enable process optimisation, regardless of application requirements. Sentronic Plus digitally operated pressure regulator valves accurately adjust pressure, flow, force, speed and linear or angular positions. They regulate pressure up to 12 bar (174 psi) and are electromagnetic-compatible according to Electromagnetic Compatibility (EMC) Directive 2014/30/EU. Sentronic Low Power (LP) valves are a highly efficient option for pressure regulation requirements, offering a small footprint, an easy-to-use and modular design, and advanced software capabilities. Their low-power consumption of less than four watts supports applications where power is limited.
IO-Link is increasingly being applied to a range of automation applications, providing a low-cost digital communication interface for sensors, actuators and controllers via unshielded, industry-standard M12 I/O cables. To reduce maintenance time and complexity, the IO-Link module allows the Sentronic valves to identify and configure themselves automatically during component replacement, thereby eliminating the need for reconfiguration via a laptop. Supporting greater ease-of-use, the addition of IO-Link technology to the Sentronic valves uniquely enables device parameters to be changed directly with the PLC during a process without the need of data acquisition software.
"Emerson is a leading innovator in driving IIoT technologies and strategies to facilitate the digital transformation of our customers' operations across a broad range of industries," said Harald Steinle, engineering manager for proportional products at Emerson Automation Solutions. "Adding IO-Link capability to the Sentronic Plus and Sentronic LP valves creates significant benefits for users. It not only makes the devices easier to control and operate, but also prepares them for future integration with IIoT applications, enabling improvements in plant reliability and availability."
Increasing flexibility of choice, the new IO-Link interface is compatible with the full range of Sentronic LP Series 617 valves, as well as the Sentronic Plus Series 614 valves in sizes DN3 and DN6. These valves enable process optimisation in applications such as filling machines in food or cosmetics factories, assembly machines, conveyors and robotic hands.