FEATURED STORY
Equinor's Digital Inventory: shapes of things to come
Additive manufacturing (AM) and creating a Digital Inventory are inextricably linked. If companies strive to adapt AM and reap its full benefits, they have to digitalize their inventories. Within ten years, Equinor aims to digitalize half of its inventory, leading to significant cost reduction across the supply chain.
Valve World sat down with Brede Laerum, Head of Equinor's AM Centre of Excellence. Brede, electrical/electronic engineer by education, has been working for the Norwegian energy company for 25 years in various capacities. "I have had the privilege to work in different roles, as an engineer and as a manager. Whether as a Technical Department Head, an oil platform manager or recently in digitalisation/additive manufacturing, I have gained a good understanding of how our company has evolved over the past quarter of a century."
Brede also discloses that his current domain has been the most challenging so far, but we will get to that later in the interview. First of all, how did he get involved in digitalisation/AM within Equinor?
"I noticed the great potential AM could have in Equinor. I wanted to get involved as these technologies hold great potential but also very complex, which poses challenges (organisational, technological) for our organisation."
Foundation
Brede explains that Equinor is not exactly a novice in additive manufacturing. Equinor's R&D department had already conducted research (materials technology) to assess the reliability/safety of AM-components. However, the company did not have any experience yet regarding the implementation of these parts in the field.
"It became clear to me from the research results that this technology is ready to be rolled out. However, for AM to work properly for any organisation, we need to lay the foundation, namely the creation of a Digital Inventory platform. In May of 2022, a joint project (JIP) with Fieldmade (Norwegian start-up), Siemens Energy and Total Energies, resulted in the launch of a Digital Inventory Platform. This platform is already operational. We are also connected with our back-office systems (SAP etc.) to this platform."
Brede says that Equinor's platforms Johan Sverdrup and Johan Castberg have been involved in building the DIP. It is no surprise that offshore locations were involved as these remote locations would benefit the most from digitalized supply chains, coupled with additive manufacturing.
Huge potential
When asked about the potential of additive manufacturing and digitalisation for the energy sector, Brede states that the implications will be profound. "This technology holds great potential and will enable the energy sector to realize several objectives. First of all, we will significantly reduce our physical inventories, in the case of Equinor we aim to digitalize half of our inventory in 2032. This means cost reduction and a more effective use of spare parts, switching to on demand and just in time production. The latter brings me to another bonus: supply chain performance. By bringing production closer to the place where it is needed, we can drastically reduce lead times, from 3 to 6 months down to 4 weeks. We also would be able to avoid supply chain disruptions that have become apparent the last couple of years, see the Evergreen getting stuck in the Suez canal or the pandemic. Reducing our CO2 footprint, decreasing our inventories and reducing transport time/cost is also a consideration. Finally, the design freedom AM brings to the table is also a benefit as it facilitates design optimisation to improve the functionalities (for example noise reduction) of certain components."
Distribution of value
Brede explains that the technology behind the DIP has been designed to facilitate easy access and connection from end-users, OEMs and suppliers. He states that the platform will be open for other end-users. However, he also expects that other, similar platforms will be established. "The value of these platforms is determined by the quantity and quality of data uploaded. For example, Facebook in its infancy did not hold a lot of value. However, as Facebook attracted billions of users, its value shot through the roof. DIPs are no exception to this rule."
According to Brede, value distribution is a challenge of the Digital Inventory. As he explains, Equinor holds 3 billion euros worth of spare parts/equipment in its warehouses. Roughly 80 per cent will never be used, Brede says. For Equinor, holding on to this inventory is costly: the company has already paid for it and needs storage space to manage it, only to find 20 per cent will actually be deployed. However, from the perspective of a supplier, this way of doing business is fine as he already has the certainty of supply.
The AM mindset
Equinor has been active in Additive Manufacturing since 2016. Since then, the company has established its AM Centre of Excellence. As mentioned earlier, the company initially focused on (material) research, when the positive results arrived the implementation project was initiated in 2018. Since then, the AM CoE has become an integrated part of the organisation, serving the Equinor organisation globally. Building awareness and the AM mindset within the company has been key, and by running workshops with participants from the AM team and operations and maintenance personnel this has resulted in many good use cases, like 3D printing of impeller to pumps, flow valve internals, obsolete engine parts, repair of metal components and on-site repair of large equipment types, like pipes, tanks etc.
In addition to this, Equinor has experience with polymer part production (e.g. gaskets), and sees a potential for testing alternative materials, for instance replacing metal parts with 3D printed polymer or composite parts. As for AM technologies, Equinor has no preference although Brede sees great opportunities for Laser Bed Powder Fusion, DED and Wire-Arc.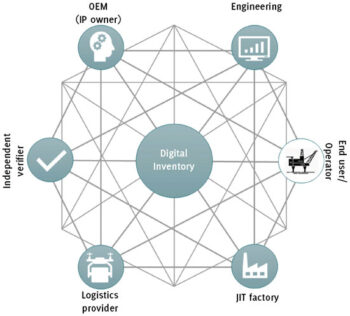 AM: from spare parts to repair
"Apart from producing metal parts, we also see possibilities for AM in repair, for example in adding material via robotic welding to replace material that has been eroded. This modus operandi would avoid replacing a heavy and costly asset and increasing the product life cycle. We are engaging in comparative analyses of how certain applications are produced. By comparing various parameters in a LCA, we can compare AM with conventional practices and illustrate the potential of the first in terms of cost or CO2 footprint." When asked about specific equipment, Brede sees a huge potential for parts (internals) in pumps and valves. "There are already several examples, for example 3D impellers and stems/noise attenuation parts that can be deployed in the field."
Adapting to change
"I expect market disruptors to appear, either in terms of products or services. As per usual, these products/services are hard to predict at the moment. One service I can see at the horizon is design for Additive Manufacturing. Companies that can assist 'conventional' companies in digitalising their product portfolio. In other words, there will be exciting times ahead for existing but also new players in the oil, gas and renewable energy supply side."
About this Featured Story
This Featured Story is an article from our Valve World Magazine August 2022 issue. To read other featured stories and many more articles, subscribe to our print magazine.
"Every week we share a new Featured Story with our Valve World community. Join us and let's share your Featured Story on Valve World online and in print."