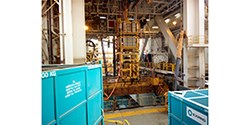 Expro has announced that it has successfully completed an integrated Plug and Abandonment (P&A) contract valued at more than USD 20M for a subsidiary of PETRONAS, PC Mauritania 1 Pty Ltd (PCMPL), which manages offshore operations in Mauritania, West Africa.
The well intervention scope of the P&A project utilized Expro's integrated Open Water Intervention Riser System (OWIRS) for successful intervention and barrier placement on 15 wells for PCMPL's Chinguetti Field Phase II works. The system's compact nature provided considerable time savings by retrieving the subsea trees without an additional run. This was further enhanced by the efficient parallel deployment of the OWIRS and rig blow-out preventor from the auxiliary well and primary well centre through the rig's dual derrick capabilities.
Expro's onshore project management team, based in Kuala Lumpur and locally onshore in Mauritania, supported PCMPL throughout the project planning and execution phases. Expro provided a range of integrated services, including the subsea well access system, surface flow head, umbilicals, topsides control equipment, and installation and an intervention workover control system (IWOCS) package for controlling both the OWIRS and Xmas tree systems. Worldwide Oilfield Machine (WOM) worked closely with Expro as an alliance partner providing the subsea well access system and a technical support team.