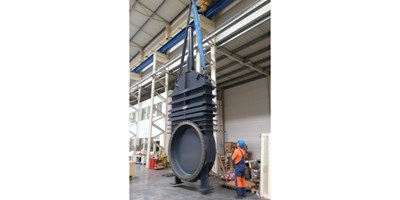 ARMATURY Group has produced two gate valves DN 2000 for Labská strojní a stavební společnost. It is the largest size of the gate valves type S33.41 that the company has ever manufactured. The valves will serve as emergency closures in water works Labská near Špindlerova mlýna.
"We have been dealing with the contract since 2016. Labská strojní a stavební společnost has consulted with us the technical design of DN 2000 emergency shut-offs in the framework of the reconstruction of the dam. In 2017, we won a tender for the supply of two DN 2000 PN 16 gate valves. We produced the gate valves in the required time and were ready to ship in August 2018. Due to the technical conditions of the tunnel excavation, the massive water leakage, the necessary tunnel redevelopment, and the climatic conditions, the gate valves were installed at the dam in March this year. Their full operation is planned for the year 2020," Alfred Siebert, Head of Services and Repairing of Valves said.
Leading designer Libor Šefčík added to this significant supply: "The gate valves for the Water Works Labská are exceptional due to their flow – DN 2000, they have an extremely short construction length, i.e. 600 mm, which the customer required due to installation conditions. Also, the height and weight of the valves are respectable, the gate valve reaches the height of almost 10 meters and weighs 11 tons."
ARMATURY Group has significant experience with deliveries to the water supply. In the past, has produced the DN 800 globe gate valve for a small hydroelectric power plant at Labská přehrada.