FEATURED STORY
"Innovation and an open mind are essential"
An interview with Mr Tengku Syahdilan, Senior Piping Valve Vessel Engineer at the PT Pertamina Hulu Mahakam field in Indonesia.
By Laura WANG & Joanne McIntyre, Valve World
With the approach of the Valve World Southeast Asia Expo & Conference, we are having closer interactions with end users and EPC companies from Southeast Asia. Recently our editorial team had the pleasure of speaking with Mr Tengku Syahdilan, a Senior Piping Valve Vessel Engineer at PT Pertamina Hulu Mahakam. The company produces oil and natural gas through exploration and production activities in support of PT Pertamina (Persero), providing energy that is important for Indonesia's development and economy.
Tengku has 20 years of experience as a Piping Mechanical Static Engineer for various projects; onshore, offshore and on FPSOs. His work has encompassed many aspects, from conceptual studies and basic engineering to detailed engineering and construction. In this article, he shares his thoughts about developments in valve integrity, welding, corrosion modelling, failure analytics, and sustainability.
Please tell us about your career background and current role
"I started my career as a piping mechanical engineer and have worked in several engineering companies over the past 20 years. One of them was KBR, where I had the opportunity to work on the Gorgon LNG project and BP's project in the Caspian Sea. I then joined Total E&P Indonesia as a Senior Piping Valve Vessel Engineer based in Indonesia in 2012. I worked on projects in Indonesia before being assigned to the Total headquarters in Paris as part of the Subject Matter Expert team. After three years of assignments, I returned to Indonesia in 2018 to join PT Pertamina Hulu Mahakam."
Since 1966, the Mahakam gas block in Indonesia has been an important cornerstone of the country's natural gas production. In January 2018, operatorship of the block transferred to state oil & gas firm Pertamina, taking over from Total E&P Indonesie, who had managed the prolific block since 1968. "I am now a Senior Piping Valve Vessel Engineer responsible for supporting various stages of projects in the Mahakam field. The field is serviced by a variety of platforms. Part of my responsibility is providing technical input for piping design, analysis, and material documents, including valve and pressure vessel expertise. I also support daily operations when the operational team needs engineering assistance, such as pipe repairs, valve repairs and on-site tests, fitness for service study, vibration troubleshooting, and design validation on-site and modifications. I also provide technical assessments for the pipe and valve manufacturers."
Which aspect of your work has impressed you the most so far?
"I think my role at Total because, at that time, my role was to support several projects in Paris and other parts of the world, including Myanmar. I met many experts from all over the globe and gained a great deal of knowledge. I exchanged knowledge with fellow experts and met specialists from Shell and other companies. It was very interesting for me and a valuable experience to enhance my professional knowledge."
"Looking back to about eight years ago, my knowledge was limited to the area of piping. But being exposed to so much experience when doing those projects, and meeting with so many experts from around the world, expanded my knowledge. More than that, as an engineer involved with piping, valves and pressure vessel, it's part of my responsibility to expand my knowledge in these areas. Today, I'm not only more capable in piping, but in valves and pressure vessels as well."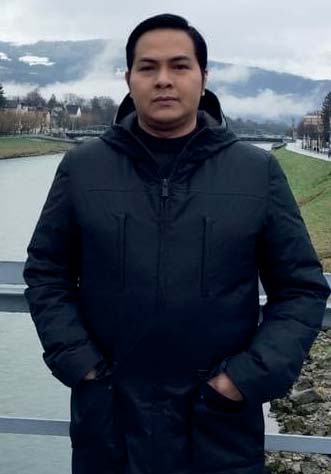 "At Pertamina Hulu Mahakam, my role as Piping Valve Vessel Engineer is also very interesting and challenging, especially in developing our local manufacturers to deliver products that fulfil safety standard criteria while being reliable in terms of design and function. We deal with this and other challenges with a spirit of being collaborative and adaptive to new technology. Innovation and open-mindedness are key factors if we want to improve the conditions."
What has been the most significant change in the valve industry?
"The valve market has become more competitive; five years ago it was dominated by European players, and although the market leaders are still there, we now see more diversity. It's my opinion that Asian valve suppliers and manufacturers must continue to improve their quality to become international players."
"There are still some negative stereotypes about certain Asian countries. I work with many valve manufacturers and don't believe these stereotypes are valid. When we do technical assessments, we visit the manufacturer and review their quality management, design packages, material certificates, how they manage their material, find out the source of their raw material, etc.
People can't just assume that manufacturers from certain countries can't be trusted. A thorough assessment needs to be performed to know the quality and capacity of the manufacturer. I expect to see a shift in mindset, although that will take time."
Which factors are most important during manufacturer approvals?
"Key focus areas when conducting a technical assessment with a valve manufacturer are their source of raw material, design packages, manufacturing and testing facilities, and procedures. Normally we check and verify the source of raw material because a forged part, for example, can come from anywhere in the world, and certificates can be faked. So the first thing we ask a manufacturer is who is their raw material supplier. Normally we have a list for these items, including the valve ball, the forged parts, the spring and the seat. After that, we check the design package to see if the product meets the standard.
We also check compliance with the standard in terms of thickness, the precision between the ball and seat attachment, safety features design (anti-static, anti blow-out stem, O-ring anti-explosive decompression, fire-safe design and certificate), etc. Finally, we check the manufacturing procedure and pressure testing facilities, tools and procedures."
"More specifically, in my opinion, the valves must be 'safe design, save operation', and 'fit for purpose'. In the last ten years, there was a gold standard for design which meant overdesigning the valve. But I don't subscribe to this. We need to ensure that the valve is designed according to the standard's minimum requirements, including fulfilling the safety requirements so that the product can operate safely and reliably. We also ensure that the valve complies with our Mahakam field specification."
"Before gaining approval, new suppliers are requested to do a design validation test as per API 6D 25th Edition Annex F."
How can suppliers provide added value? 
"If suppliers have an in-house engineering team, we must know which technology they use. If they subcontract engineering to a third party, we need specific information about this. If we receive the drawings with a database calculation that does not comply with our company specifications, we'll discuss it with the supplier.
Normally we need their engineering team to answer, not someone who doesn't know the calculation or drawing details. Suppliers must have a qualified person for each subdomain of expertise such as engineering, quality control and quality assurance within their organisation to understand what they manufacture and supply to the customer."
"For the future, the manufacturer also needs to provide a competitive design and price and a full-service package such as after-sales service, for example, an unconditional warranty for several years, and a team ready to provide on-site expertise for the client, etc."
What is the main challenge at work? 
"The Mahakam field is very mature, so we need innovation and improvements to maintain production levels and avoid it declining too quickly. Last year we carried out a joint engineering team and operation division program and increased the flow rate of some wells to surpass the original designed capacity. There is the potential when doing this to have a breach of integrity related to the configuration.
When you put more fluid through the pipe, the fluid may exceed the pipe's flow capacity, causing a fatigue failure due to flow-induced vibration. Our solution was an increasing flow rate program with vibration monitoring. First, the engineering team performed a specific study. Afterwards, measurements were simultaneously done when the personnel on site increased the flow rate, and the data was sent to us to assess whether the record values were still acceptable. If they were, the increased flow rate could be maintained below a certain level without exceeding the fatigue limit of the pipe or components. So we can successfully increase the flow rate by using this vibration monitoring program."
"To maintain our production, we've also added a reciprocating compressor to boost the gas for the Low-Low Pressure condition. This compressor project was very interesting because the supplier for the compressor package is from China. This was a challenge initially due to the language barrier and because it was our first time working with them. As of today, the project is still ongoing, and we expect the package to be delivered on target, on budget, on schedule, on return and safely.
What common valve problems do you encounter?
"The most common problems we encounter on site are passing valves due to damage to the thermoplastic seat or gland packing issues. Damage on the thermoplastic seat is mostly caused
by unexpected solid particles and also due to the ageing of the seal material. Let's take a soft seat ball valve as an example.
When you operate the valve incorrectly, it may only have a life of three years due to excessive wear, or maybe just two years if the pressure is high or if it is exposed frequently to solid particles in the fluid media."
"I recently heard from an ex-colleague working in another oil and gas operator company that a valve fractured because it wasn't designed for low-temperature applications. The body material was carbon steel, which is only suitable down to -29°C depending on the heat treatment process.
It experienced a brittle fracture phenomenon when the actual application condition was -46°C and colder. This is an important reminder that we must be careful when selecting the pressurised parts of valves. All design and operating conditions should be considered carefully from the initial phase of the design until the delivery of the products."
How do you view the future of the valve industry?
"In my opinion, the valve industry is still dominated by European players because they have the leading technology. You can see that in European norms and standards where quality is always the first governing factor, while for norms and standards in America, the design is the governing factor. In Europe, you first need quality material that meets certain standard levels, then design verification will follow. That's why we trust materials from countries such as France and Italy more than other regions.
However, need to change this; as I said before, the Asian market needs to step up. People only care about cutting costs, but once you have lower costs, you also have a greater risk of getting lower-quality products. You may be able to avoid this to some extent by innovation, but if you want to be a long-term player, you need to have high-quality products."
As a 2023 Valve World Southeast Asia Conference Steering Committee member, what topics would you like to discuss?
"Fugitive emissions are a key topic. This was a hot topic last year at Valve World in Dusseldorf, and there have been some developments in the IOGP standard regarding fugitive emissions. I don't know whether the effect of this development has reached Asia or not. We discussed this at the IOGP committee during the meeting in 2022. Bringing this information to the first Valve World Southeast Asia Conference will also be a good idea.
Another interesting topic is design validation testing. Today, we have only two standards – API 6D and ISO 23632- which govern design validation tests. In the past, each end user had its own design validation tests, which sometimes caused major issues for the suppliers to keep up. So I believe this will be a good opportunity to discuss this."
About this Featured Story
This Featured Story is an article from our Valve World Magazine, May 2023 issue. To read other featured stories and many more articles, subscribe to our print magazine. Available in both print and digital formats. DIGITAL MAGAZINE SUBSCRIPTIONS ARE NOW FREE.
"Every week we share a new Featured Story with our Valve World community. Join us and let's share your Featured Story on Valve World online and in print."