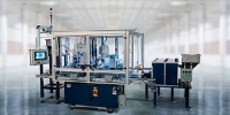 Epson Robots, the SCARA robot manufacturer, announced that RND Automation, robotics, packaging, and automation company, successfully leverages Epson robots for its Hydraulic Valve Assembly Machine. The Epson T3 All-in-One and G3 SCARA robots, as well as the C8 compact 6-Axis robots, offer RND customers a fully customized and complete automation solution for demanding assembly operations at an affordable price.
RND, a Platinum level Epson AutomateElite℠ System Integrator partner, incorporates the Epson SCARA and 6-Axis robots with rotary and linear indexers and machine vision for its Hydraulic Valve Assembly Machine, a turnkey solution for the most demanding assembly operations. RND chose the Epson T3 All-in-One SCARA robot for its fast installation, low cost ($7,495) and all-in-one design, with a built-in controller, perfect for simple pick and place operations, and the G3 SCARA robot for its increased speeds and inertial loads for the more demanding stations. The Epson C8 6-Axis robot was also selected for its SlimLine design perfect for applications with limited workspace. With a compact wrist for efficient motion in tight spaces and a compact elbow for optimum workcell layout, the Epson C8 6-axis robot has a wide range of motion, so parts can be accessed from virtually any angle.
The Hydraulic Valve Assembly Machine is based on RND's Modular Assembly Platform (MAP), which utilizes a linear motor puck technology to move the parts from station to station. With the modular design, each station can carry out a new component assembly or inspection. The Epson T3, G3, and C8 robots pick parts ranging from nuts, housings, and springs, to adjustment screws and hex bodies, assembling them into the awaiting pucks. A leak test is performed at the final station and finished valves are exited from the machine.