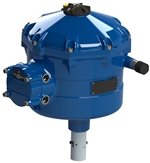 The new CVL-5000 actuator extends the scope of Rotork Process Controls' innovative CVA electric control valve actuator range to enable the automation of larger valves and valves with higher pressure ratings.
Providing a maximum rated thrust of 5000lbsf (22241Nm) and a linear stroke length of up to 4.5 inches (115mm), the CVL-5000 retains all the features and benefits of the established Rotork CVA range, providing highly accurate control valve automation combined with advanced, non-intrusive calibration, valve diagnostics and the simplicity and economy of electric operation.
CVA actuators deliver continuous, repeatable modulating control with a programmable fail to position option. Operating on an industry standard 4-20mA control signal or digital bus, the resolution, repeatability and hysteresis performance is quoted at <0.1% of full scale, offering suitability for the most demanding applications.
Mechanical features include Rotork's well-proven 'double-sealed' enclosure, whereby internal electrical components are permanently protected from the effects of the operating atmosphere. The IP68 dust tight, watertight and temporarily submersible (7 metres, 72 hours) enclosure is universal to all models in the CVA range, including those with hazardous area approvals. On loss of mains power, built-in super-capacitors allow the actuator to move the valve to a desired position, programmable as open, close, any intermediate position or stay-put. Manual operation is available as standard on the CVL-5000 and as an option on other CVA models.