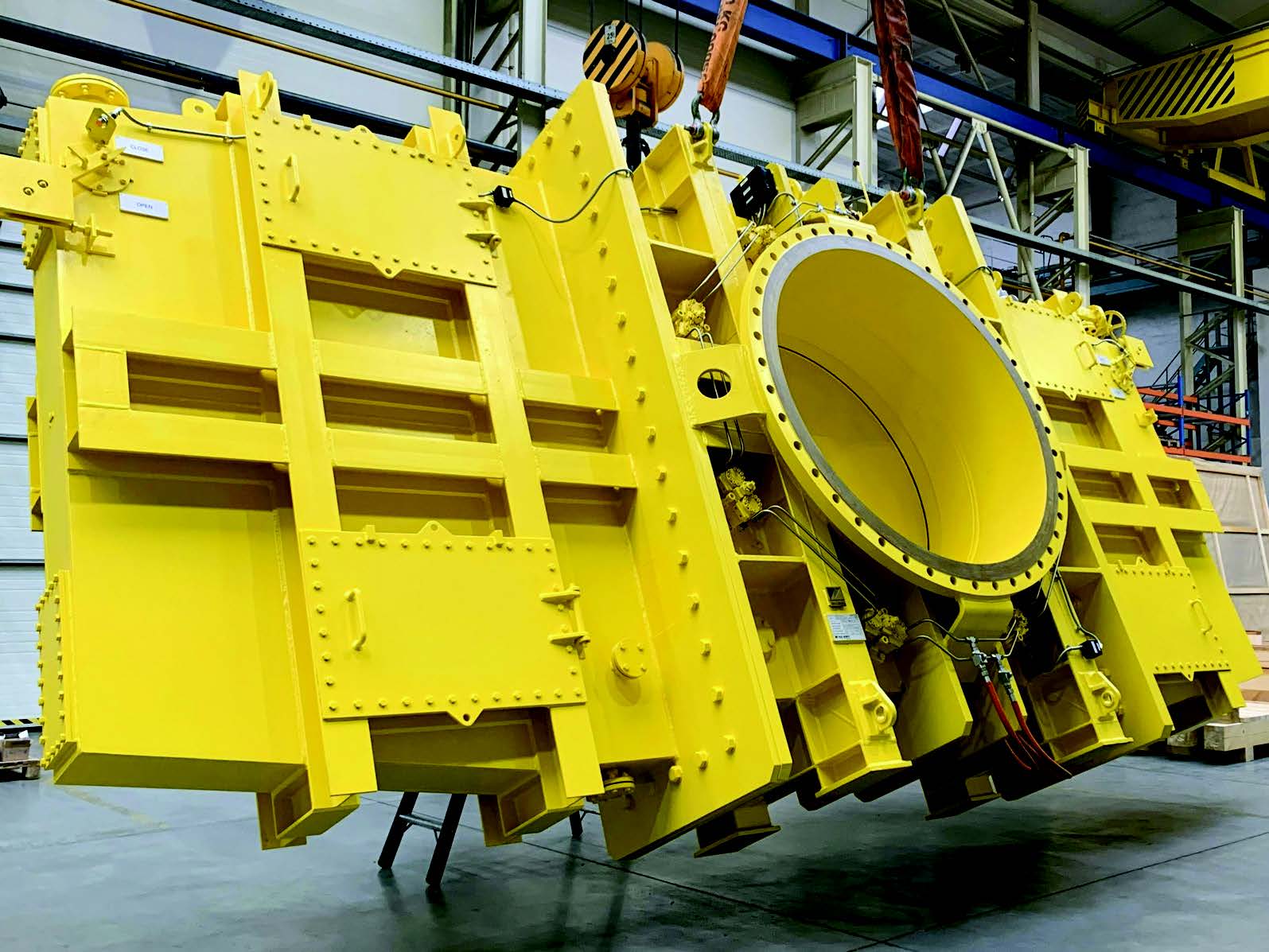 Armatury Group have provided a 25-ton goggle valve to a company in India. The valve is of an environmentally friendly design and is used as a safety stop in gas pipelines.
Text and images by Armatury Group
The environment-friendly DN 1800 goggle valve was manufactured in the production plant of ARMATURY Group a.s. in Dolní Benešov. This goggle valve, weighing 25 tons, is intended for a metallurgical plant in India.
The production stages and assembly took place according to a pre-planned schedule, followed by successful acceptance by the customer, painting to the required colour, thorough overseas packing and transportation to the port in Hamburg. From there, the goggle valve will be transported to India by ship. This seemingly simple process involves a series of operations that result in a perfect ecological product made up of thousands of parts.
The use of a goggle valve
The goggle valve is used as a safety stop valve in gas pipelines for transporting blast furnace, converter, coke oven or mixed gas. The environment-friendly goggle valve consists of a closed body, two side covers, a frame with flow and shut-off plates, a hydraulic motor system with plate release accessories, an actuator to reposition the frame with the plates, and many other parts.
In the closed position this valve must 100% prevent the penetration of toxic gases into the enclosed part of the pipe for maintenance, repair or inspection. The environment-friendly (closed) design of the valve has the advantage over the open design in that no gas leaks into the surrounding environment during the repositioning phase of the frame and plates (opening/closing of the valve) and the gas remains in the body and covers. This prevents contamination of the surrounding environment.
About Armatury Valves
In 2000, Armatury Valves opened their first factory at Dolní Benesˇov. Today, they mainly specialise in the production of industrial valves, technological units and related services. 70% of their products travel to 65 countries of the world. The remaining 30% cover the needs of the domestic market, particularly in the fields of power engineering, oil and gas industries, chemical and petrochemical industries, metallurgy and water supply engineering. Armatury Group is a part of Vexve Armatury Group, which is a European provider of valve solutions for the energy sector. The group is owned by long-term oriented owner-operator DevCo Partners Oy.