The "Buyer'sGuide+Online" is a powerful advertising and reference section which appears both in Valve World magazine and also on Valve World website.
In the magazine, all entries listed in the "Buyer'sGuide+Online" are presented under classified product or service headings. This allows buyers to quickly find potential suppliers for the products they need. Companies with several products can of course use multiple headings. These "yellow pages", which clearly stand out at the back of the magazine, are further enhanced by a phone directory with principal phone numbers of advertising companies, as well as an Application Guide, enabling readers to find companies which serve specific markets.
On the website, the "Buyer'sGuide+Online" is formatted as a "Search Wizard", with multiple search options. Users can therefore quickly find suppliers of specific products or services; the results can be further filtered according to the region or even country. Alternatively, users can generate lists of suppliers active in say Germany, the USA, etc. It is also possible to search by company name. Furthermore, each entry is accompanied by a brief profile, enabling companies to better present themselves to prospective buyers.
In short: the "Buyer'sGuide+Online" is both a powerful resource for buyers who are looking for products and services, as well as a cost-effective way for companies to present themselves to potential customers.
Printed Magazine:
10 issues per year.
Online:
1 year online with a Company Profile including a logo, 3 pictures & 400 words of text.
Digital Magazine:
10 issues per year
• Clickable entries link direct to your Buyers' Guide Company profile
• Clickable company logos link direct to your website
New: Direct link to your company video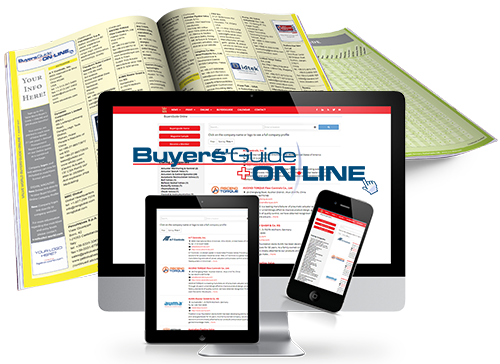 BASIC ENTRY
Company listing in the printed & digital magazine:
Address details, fax, telephone, e-mail & web address.
Rates in Euros             1 year               2 years            3 years
1 heading                      €1930                €3490                 €4945
2 headings                    €3670                €6630                  €9400
3 headings                    €5230                €9435                €13360
4 headings or more: please contact us at v.solis@kci-world.com
PREMIUM ENTRY
Basic Level PLUS:
5 extra information lines (22 characters including spaces)
10 bullets in the Application Guide – See below
Rates in Euros             1 year               2 years             3 years
1 heading                     €2240                 €4050                 €5730
2 headings                    €4265                 €7685               €10890
3 headings                    €6070                €10910              €15475
4 headings or more: please contact us at v.solis@kci-world.com
Aerospace
Agriculture / Fertiliser
Automotive
Biotechnology
Chemical
Defence
Food & Beverage
LNG
Medical
Mining
Nuclear
Offshore
Oil & Gas
Onshore
Petrochemical
Pharmaceutical
Power Generation
Pulp & Paper
Shipbuilding / Marine
Waste Incineration
(Waste) Water
Company Logos
Company logos and web address can be included in matchbox format adverts (3,5cm x 3,5cm) in the Buyer's Guide+ Online pages in the Valve World Magazine. (Not online).
With a maximum of three matchboxes per page, randomly assigned, each logo will have enormous visual impact.
Price per logo:
10 issues € 3000.
5 issues € 1600.
FOOTER: An online advertisement at the bottom of a Buyers' Guide page: One Footer: €75
This combination gives your company a World Wide presence!
Buyer'sGuide+Online provides a great opportunity to expand your sales.
We offer you the choice of: BASIC or PREMIUM entry levels.
For more information regarding the different levels please contact:
Mrs. Vera Solís Esquivel
Phone: +31 (0)575 789 266 or +31-6 1052 4902
E-mail: v.solis@kci-world.com
LinkedIn: linkedin.com/in/verabgolkci