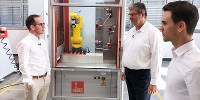 DOPAG is now focusing more on applications and systems with a new video format. In "DOPAG Direct", experts from the DOPAG team regularly present new or special metering and mixing systems and applications. In an interview, they provide information about the system, its design and special functions. They also explain how the material is applied to the component and why this specific solution was chosen.
In the first episode, Michael Wortmann, Director Automation Technologies, and Product Manager Thomas Müller present a production cell for automated greasing. It is equipped with a 6-axis articulated robot. A spray valve and a shot valve apply grease to plastic gearwheels. The robot picks up the gearwheel from a work-piece carrier and takes them to the installed valves, before putting them back in the work-piece carrier.
The gearwheel is greased both inside and out by the two valves. For interior greasing, the spray valve, combined with a round jet nozzle and a gear flow meter, ensures full-surface material application. For the exterior greasing, the material is applied punctiformly to the sides of the gearwheel.
Both valves are supplied with material via a 30-litre lubricant pump from the lubriLine product line. Three material pressure regulators ensure a constant working pressure during the metering and mixing process.