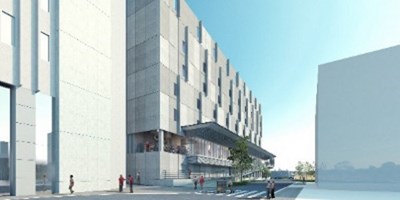 Azbil Corporation announced that it will build two laboratory buildings at Fujisawa Technology Center, the Azbil Group's central R&D base, for conducting experiments. In doing so, Azbil aims to enhance its technological development facilities for accelerating the R&D of advanced system solutions and devices for the Group's next stage of growth.
This expansion will boost Fujisawa Technology Center's development capabilities in advanced system solutions that use cloud computing and AI, as well as in high-performance, high-precision devices. This is yet another step of the company advancing its high-value-added production when, in 2019, Azbil constructed a new production building at Shonan Factory, paving the way for the site to be positioned as the Group's "mother factory."
Boasting the latest experiment facilities, the first laboratory building will have a building area of 2,230 m2 with a total floor area of 10,721 m2 over its six floors and replace the previous laboratory building, which will be dismantled due to age. Rooms for employee use will be a balanced mix of places where employees can concentrate on work and rooms where they can unwind, thus aiming to be a facility that can increase individual and team creativity.
The second laboratory building will have a building area of 1,336 m2, a total floor area of 4,217 m2 over its three floors, and a clean room for development and production. The building will also feature a measurement standards laboratory for furthering the development of microelectromechanical systems (MEMS) sensors, which are at the center of Azbil's sensing technology. Azbil is committed to maintaining and improving the competitiveness of its MEMS sensors through its proprietary technology, process technology, and development and production expertise cultivated over many years.