Interview with Mr Tony Scott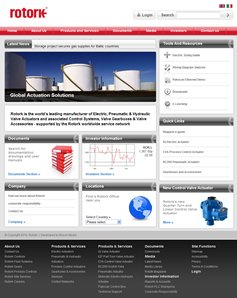 by David Sear
Starting the week by surfing some of my favourite companies, my eye was immediately drawn to the Rotork website.
According to Marketing Manager Mr Tony Scott, the new and upgraded website has been designed "to reflect Rotork's world-class status and reputation as a designer and manufacturer of valve actuation and control systems."
But beauty is not just skin deep at rotork.com.
The site pushes the boundaries of web technology to deliver easily accessible, user friendly functionality encompassing virtually every area of company activity.
Comments Mr Scott: "the comprehensive scale and scope of the information available from the website can be gauged by the fact that a team of twenty people, inside and outside of Rotork, are involved in maintaining and updating a list of contents ranging from actuator sizing guides to worldwide vacancies and a delegate booking system for open days and events."
Functionality based on customer feedback
Functionality starts on the clearly laid out new homepage, from where the majority of the tools, resources and features are swiftly accessible.
Mr Scott: "over the years, these have been constructed and honed in direct response to feedback from customers and the Rotork sales network. The range of resources is designed for internal and external usage to assist and facilitate all aspects of worldwide company activity."
"For Rotork staff, distributors and agents, these resources include some striking new features, such as the actuator sizing guide."
With over 4,000 brochures, engineering documents and user manuals available for download from the documents area of the website, Rotork customers can count on instant access to a full range of supporting documentation.
Other resources available on the website include Rotork's Insight and Rotork's Enlight software packages for actuation commissioning and predictive valve maintenance programming, as well as the language modules for multilingual IQPro intelligent electric actuator displays.
Multi-lingual
The new media centre, displaying the latest company news, is complemented by a comprehensive photo library and a link to Rotork's own YouTube channel where an archive of corporate and product animations and a selection of 'How to' guides can be viewed.
The global locator encompasses the entire network of Rotork offices, distributors and agents, enabling users to reach local contacts directly with their enquiries and requests.
The whole web package is supported by expanded information about the Rotork Group, the divisions and companies, history, key people, exhibitions attended etc, as well as a comprehensive section for investors.
Currently published in English, Italian, Japanese and Korean, the website will soon be rolled out in further languages, including Chinese, Spanish, French, German and Russian.
The CVA control valve actuator
is one of the E-Learning subjects.
Innovative web areas
Mr Scott concludes by mentioning yet more innovations on the Rotork site. These include the new E-Learning section, which is aimed anyone needing to commission and use Rotork actuators and associated equipment.
A growing list of modules can be run as live exercises by clicking on the appropriate link.
Special product animations are also available.
Currently featuring the CVA electric control valve actuator and the SVM smart valve monitor for the partial stroke testing of critical service valves, these animations bring innovative products to life to illustrate design benefits and functions.
More on Rotork……