The DIN SPEC 91406/IEC 61406 and VDI 2770 standards provide support for digitisation in the valve industry.
By Michael Hasselbach, Digital Innovation Lab Expert at AS-Schneider.
To further drive digitisation in the process industry, manufacturers should supply clearly identifiable devices and make standardised product data available digitally. The DIN SPEC 91406/IEC 61406 and VDI 2770 standards provide support in this regard. The valve manufacturer AS-Schneider labels its valves with a QR code: This gives customers easy access to valve specifications and technical documents.
No more paper
No more printed drawings, certificates, test documents, and maintenance and installation manuals for new products: large quantities of paper are neither sustainable nor up-to-date in the age of digitalisation. That's why companies from the process industry developed DIN SPEC 91406. The committee included representatives from BASF, Covestro, Bayer, Lanxess, Siemens, Endress+Hauser, Yokogawa, Emerson, ABB and many other companies. The standard now provides a common framework for uniquely identifying products.
Manufacturers assign a serial number to each item, with a predetermined composition that is internationally valid. This customised number (ID) is encoded via QR codes or RFID tags and is attached to the product. Those responsible intend to internationalise DIN SPEC 91406 soon and replace it with the international IEC stan-dard 61406. The standard should thus become more relevant as users in the process industry demand the technology more. Valve manufacturers do not expect any changes in content as a result of internationalisation.
Relevant in all phases of the device life cycle
Orders and items can be tracked using the unique ID number. Manufacturers, OEMs, plant planners and operators can use device identification to access product-specific documents and information on maintenance plans and spare parts services. For example, companies can use it to provide technical drawings, operating instructions and material certificates. Once the valves have been uninstalled, the ID enables users to dispose of the products properly and sustainably. In short, the one-to-one ID is relevant in all phases of the product life cycle, from manufacture to disposal, thus con-tributing to the circular economy in the future. The VDI 2770 standard offers another perspective for documenting product information digitally. It focuses on the structure of digital manufacturer information and data for the process industry. The core idea of the standard: it uses the PDF format for human-readable documents and the XML format for machine-readable documents. The manufacturer packs all the information belonging to a product into a so-called document container (ZIP file). The customer then processes the data in a standardised manner. This could be an employee in the goods receiving department checking the order, a maintenance technician carrying out maintenance work or a TUV inspector accepting equipment.
For users of the devices, the two specifications are important. They specify how automatic identification (DIN SPEC 91406/IEC 61406) and structured documentation of product information (VDI 2770) should work. Plant operators need to know how they can access the digital product data, how it is presented and in what form they can process it further.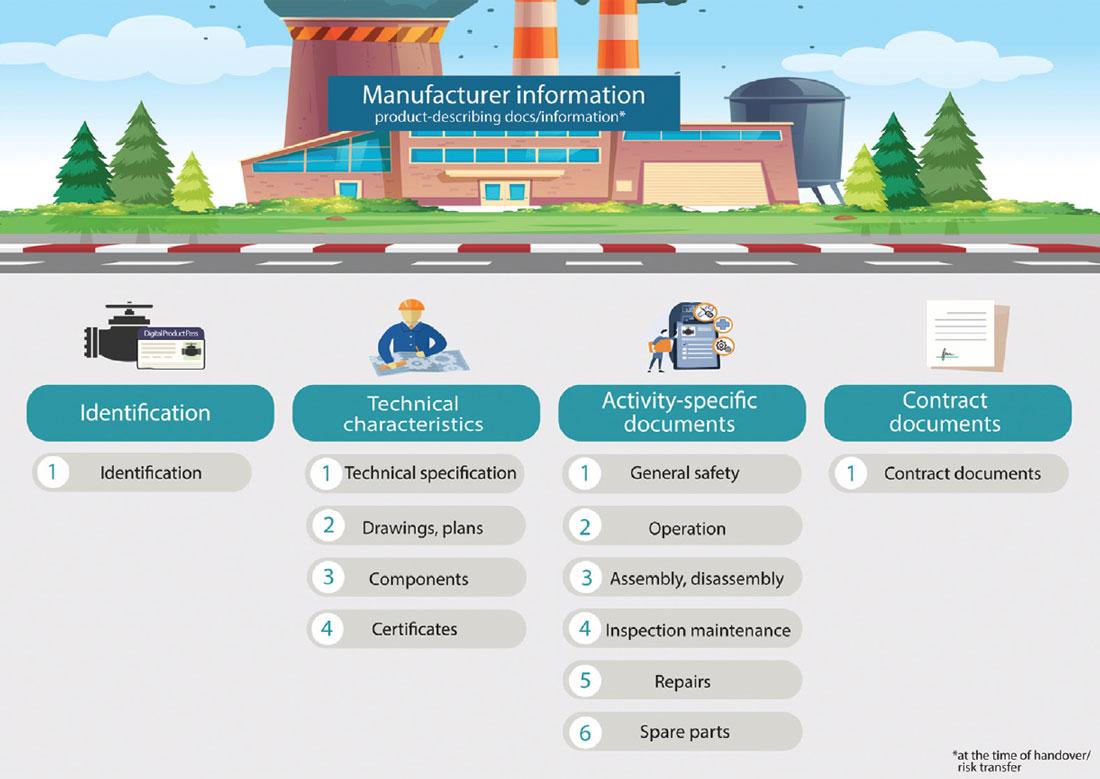 Digital product pass from AS-Schneider
The role that standards play in the process industry is best illustrated by an example. Valve manufacturer AS-Schneider has introduced a Digital Product Pass (DPP) for its products. With the free service, E Series Manifolds, Monoflanges, VariAS-Blocks and DBB Piping Ball Valves are marked with a one-to-one QR code according to DIN SPEC 91406/IEC 61406. The user simply scans the code or enters the individual serial number at www.qr4v. de. This gives them immediate access to technically relevant static product information and allows them to download the data, drawings, operating and maintenance instructions, certificates, material certificates and spare parts information.
The DPP solution is a static digital twin that provides only the documents and information that are available at the time of handover between the supplier and customer. This allows a physical product to be virtually mapped.
Standardised data, smooth exchange
In addition to complying with the DIN SPEC 91406/IEC 61406 and VDI 2770 standards, manufacturers will have to ensure that product data exchange with customers and other stakeholders runs smoothly in the future. The Digital Data Chain Consortium (DDCC) industry committee is currently looking at cloud-based information exchange platforms (IEPs) in this regard. The members of the committee are currently examining SAP's Asset Intelligence Network, Endress+Hauser's Netilion platform and other solutions. The aim is to enable stakeholders to access product data centrally via one or more IEPs to facilitate more efficient document management.
Asset Administration Shells and Industry 4.0
The DIN SPEC 91406/IEC 61406 and VDI 2770 standards also play a decisive role in the concept of Asset Administration Shells (AAS) as part of the German government's Industry 4.0 platform. In principle, these 'shells' combine all product-related information in one place and are divided into categories – referred to as sub-models: DIN SPEC 91406/IEC 61406 belongs to the 'Identification' management shell sub-model, while VDI 2770 belongs to the 'Documentation' sub-model. This defines the appearance of various segments of the digital twin.
The Asset Administration Shell is thus relevant throughout the entire life cycle of the product. However, its concept goes even further than the static digital twin that AS-Schneider already offers today. For example, it also includes real-time data from plant operation via sensor technology. In this case, this is then a 'dynamic digital twin'.
All aspects mentioned here will be relevant for digitalisation in the process industry in the future – also to produce more sustainably and environmentally friendly.