^ The Boundary Dam CCS "has laid the groundwork for any coal-fired power station in the world to be integrated with large scale carbon capture" – United Nations Framework Convention on Climate Change (UNFCCC). Image source: shutterstock
Article by Ellie Pritchard
___

The Boundary Dam facility, situated near Estevan in Saskatchewan (Canada), is owned by SaskPower and consists of six production units all commissioned in the 1970s. Units 1 and 2 were retired in 2013 and 2014 respectively, whereas Units 4-6 will be phased out between 2021 and 2024.
The rebuilt Unit 3 was commissioned in 2014 with an added Carbon Capture and Storage Unit, and produces 115MW of power, enough to power 100,000 homes in Saskatchewan. Unit 3 is capable of reducing sulphur dioxide emissions from the coal process by up to 100 per cent, and carbon dioxide by almost 90 per cent. The CCS system had an annual target of capturing 1 million tonnes of CO2. However, after the USD1.5 billion retrofit of the existing coal power plant came online in 2014, it has been producing mixed results.
In a report published in 2018, the Institute for Energy Economics and Financial Analysis (IEEFA) assesses the initial years of productivity. It cites the energy intensive equipment as the reason for the inefficient capturing process (at roughly USD42 per short tonne); "[It requires] large amounts of electricity that would otherwise go to the company's customers. Although Unit 3 has a gross power rating of 150MW, about 30MW are consumed by the carbon-capture equipment, and an additional 15-16MW are needed to compress the captured CO2 before it is piped offsite"
High hopes
The Boundary Dam project's intention was to limit and reduce the CO2 emissions of its Unit 3, which totalled 1.15 million tonnes each year. Instead of being released into the atmosphere, the captured CO2 is stored underground two kilometres away in the Petroleum Research Centre's (PTCR) Aquistore-facility. According to PTCR, Aquistore is "demonstrating the scientific and economic feasibility of deep saline geological formation storage and is providing the knowhow for other jurisdictions and companies thinking of doing the same".
Canadian oil company Cenovus Energy buys the majority of Unit 3's captured gas for enhanced oil recovery (EOR) at its Weyburn facility. The company has set up injection wells and constructed a 40 mile-long pipeline between the Weyburn oilfield and Boundary Dam. The remainder of the captured gas is stored permanently.
Project updates
According to SaskPower's most recent Boundary Dam blog update: "During the month of February 2021, the Carbon Capture and Storage (CCS) facility at Boundary Dam Power Station captured 67,699 tonnes of carbon dioxide. The average daily capture rate when CCS was online was 2,494 tonnes per day with a peak one-day capture of 2,533 tonnes. The CCS facility was online for 96 per cent of the month, coming offline briefly toward the end of the month because of a trip caused by a mechanical issue." This is an overall increase of 18,326 tonnes since the January report, and a 31 per cent increase in time spent online.
However, the February update also shows the total CO2 capture since operational start-up as being 3,927,619 tonnes. It is a far cry from the initial target of 1 million tonnes per year. In 2020 alone the system captured 729,092 tonnes, its closest yet.
"Simply not a business case"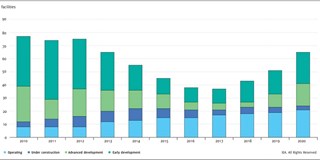 Despite the positive impact of CCS in Saskatchewan, and indeed in projects all over the world, in 2018 SaskPower and the provincial government announced that they would not be expanding the technology on any further coal-fired plants in the near future. Dustin Duncan, the minister responsible for SaskPower and the environment, said there is "simply not a business case" to retrofit Boundary Dams 4 and 5. Despite Valve World reaching out to SaskPower for comment, they were not available to discuss the project.
Concerns on cost are the most frequently heard when it comes to explaining the slow uptake of CCS-systems. Carbon capture is often deemed too expensive in comparison to wind and solar energy, attributing to their rapid fall in costs over the past ten years. Climate policies such as carbon pricing are not yet in the position to make CCS an attractive solution either.
Sources
Aquistore Project, PTRC.
Boundary Dam Unit 3 Status Update, SaskPower.
"Boundary Dam Carbon Capture and Storage Project – Canada", UNFCC.
"Is carbon capture too expensive?", IEA.
"Holy Grail of Carbon Capture Continues to Elude Coal Industry", IEEFA.
Gaining momentum
However, are companies such as SaskPower missing the boat on this? A recent International Energy Agency (IEA) report concludes that "achieving net-zero goals will be virtually impossible without [CCS]… a broad portfolio of technologies is needed to achieve deep emissions reductions, both practically and cost-effectively". The carbon capture technology is also a solution for hard-to-abate sectors such as cement, steel, and chemicals manufacturing, which have limited other options for reduction.
The IEA remains optimistic in its anticipation of up-and-coming CCS-projects. Despite a declining investment pipeline, since 2017 there have been plans announced for over 30 new integrated CCS facilities. Most will be in the US and Europe, but there are also projects planned for Australia, China, Korea, the Middle East and New Zealand. If all were to proceed, IEA expects the amount of global CO2 capture capacity would "more than triple, to around 130 Mt per year".