Supply chain visibility
FEATURED STORY
By Stephen Cherlet, SCMP, CSCTA
Simply put, supply chain visibility refers to a wide range of solutions that enable the tracking of the movement of goods while in transit. Depending on the solution, this can mean between two points with a single mode of transportation or between multiple points and multiple modes across a voyage.
The goal is to have a single shared version of the truth across the various operational siloes that typically exist in an organization, and to eliminate the information void typically occurring once a shipment is underway.
The primary purpose of supply chain visibility is to improve company performance. Having a view on inventory in transit, visible to all functions of the organization, will reduce internal demands for status updates. With (near) real-time shipment tracking with GPS (Global Positioning System) data, estimated arrival dates allow manufacturers to schedule follow-on processing and permits distributors to commit material to customers earlier more accurately. Both can lead to reducing inven-tory buffers over time and improving on-time performance.
The same GPS tracking also provides an early warning system. Route deviations, transit delays, and even unplanned changes in mode of transportation all become highly visible. The advance warning offers the option for the buyer to take remedial action compared to typical last-minute notifications.
Who benefits?
The buyer benefits most of all, by having access to key information about their shipment. Sellers may not like a visibility solution as it can show up late departure from the plant or delays in getting material to the main carrier especially for ocean freight.
Carriers, however, may not appreciate full insight into the trip. Solutions can easily make visible changes in routing (to lower cost options), route deviations, and delays. Supply chain visibility shines a bright light into previously dark corners of a shipments voyage.
For buyers' who order material repeatedly from the same supplier, the easy availability of historical data allows them to validate multiple routes to find the best options for time or cost. Once a firm route established, the same history leads to improved transit time predictability as well.
Available tracking options?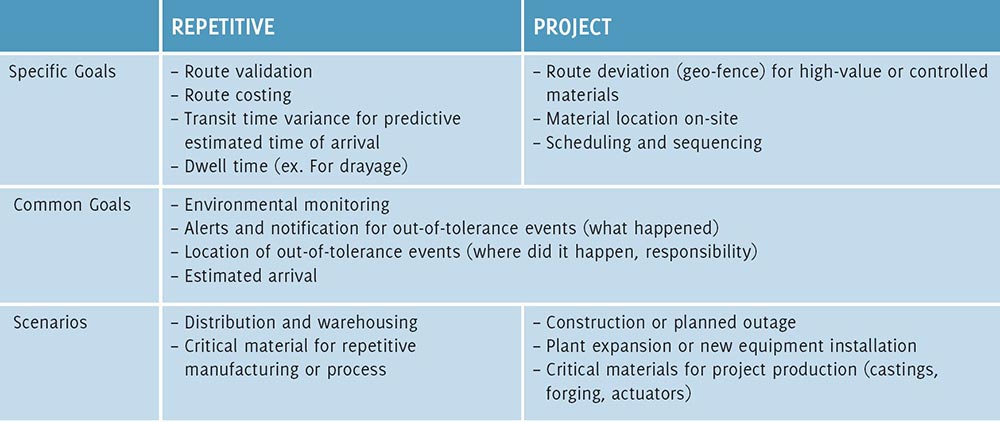 There is a wide variety of choices depending on a firm's specific needs.
Road carriage – tractors: many carriers already have tracking devices on every tractor; electronic driver logs (mandatory in Canada and the US) combine with the GPS trackers on the vehicle to show location and estimate arrivals.
Containers and trailers: devices destined for the inside of the ship-ping space offer GPS and environmental data include some, or all, of the following – temperature, humidity, shock, door openings, human presence, and tilt.
Package and parcel: similar to the devices for containers and trailers, they typically offer the same environmental and GPS data. Some solutions communicate from the package to the master device in the trailer/container using Bluetooth.
Tanker trailers: there are solutions that can track valve/hatch/cover openings and closing. These devices communicate to master device on the trailer similar to the package/parcel solutions.
Ships: all major ships must have AIS (Automatic Identification System) equipment onboard. The equipment combines GPS with VHF trans-ceivers to communicate with either shore-based stations or specially fitted satellites.
Calling home
Whether individual devices, or the master device, most solutions transmit the data back to the host system using the cellular network in order to minimize communication costs. Where this doesn't meet a buyer's needs, many solutions offer satellite phone connectivity for extra cost. Some ocean freight focused solutions piggy-back on the ship's own communication system. For fixed asset tracking, or equipment operating in a restricted area, some solutions use local WiFi or LoRaWAN networks.
Inbound supply chain visibility solutions work well in both repetitive shipment scenarios as well as one-off projects. The focus of each is different (see table below).
The answer is: "it depends" on one's needs. If an organization only wants to know where a ship is, then they can take advantage of a num-ber of free (or paid) services that show global ship location, speed, and direction. Solutions offered by carriers or specifically container shipping firms can offer GPS insights and, often, cargo monitoring but only for their portion of the voyage.
Multi-modal, multi-carrier trips need a differ-ent solution again. There is definitely a solution for every need.
Getting started
As with many other projects, it's wise to start with a proof of con-cept. The idea behind this is to validate not only the solution works technically, but whether or not it is satisfying your actual needs. A short run program can let you get a view of how things work, what information is being provided, how it is being made available and giving some insights into potential cost of operation.
The proof of concept should take place with a key material and/or key supplier. It is important to position the solution as a vehicle to improve performance through the use of data to make decisions, not a way for laying blame.
About the author

Stephen Cherlet is a senior management professional with 40 years of experience.
A graduate of Aerospace En-gineering Technology at Ryerson (Toronto, Canada), he has worked in aerospace and defence for Bom-bardier Aerospace and Honeywell. His last role in industry was COO at Velan Inc, a well-known valve manufac-turer. Currently, Stephen is the owner/founder of FarStar S.A.C. Consulting. He is also the Chair of the National Boardof Directors at Supply Chain Canada. He can be contacted at stephen@farstarconsulting.com
About this Featured Story
This Featured Story is an article from our Valve World Magazine September 2021 issue. To read other featured stories and many more articles, subscribe to our print magazine.
"Every week we share a new Featured Story with our Valve World community. Join us and let's share your Featured Story on Valve World online and in print."