Interview with AUMA's Michael Herbstritt
Posted by David Sear
Did you read the June issue of Valve World? If not, then you will have missed a great article by AUMA's technical author Michael Herbstritt.
Now, Mr Herbstritt and I go back quite a long way. He was the first person I interviewed when researching a Cover Story on actuator manufacturer AUMA many years ago.
Mr Michael Herbstritt is AUMA's
technical author
I recall him giving me an extensive tour of AUMA's headquarters and production plants in Mullheim, Germany. He also introduced me to the fine wines from the region, but that's a different story.
Since then, he has contributed many great technical articles to Valve World, culminating in the latest report on actuator innovation.
This article reveals how AUMA has actively cultivated feedback and input from the industry to help provide a focus for innovation.
Comments Mr Herbstritt: "When it comes to actuation, our goal is to ensure that we meet current needs and pre-empt future requirements. That's why we are in constant dialogue with interested parties from the valve industry as well as end users."
This input, backed up by engineering focused research and development, has recently resulted in exciting product news from AUMA.
"We have just introduced the new Generation .2 multi-turn actuator range," he confirms. "This new range of actuators represents the most significant product innovation for AUMA since the company introduced its modular actuation concept in the 1980s."
Case study
In his Valve World article, Mr Herbstritt further discusses a case-study example of a pioneering power plant that is backing its processes with actuation technology.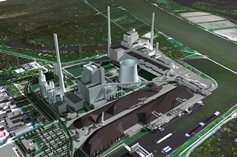 RDK 8 adopts AUMA actuation
technology to support asset management
Mr Herbstritt says that one of the first plants to adopt actuators in asset management will be the Rhine port steam power plant (RDK) in Karlsruhe, Germany.
"In a new block (RDK 8), currently under construction, actuators with integral controls and Profibus DP-V2 interfaces will be installed. The case-study is evidence of the trend toward decentralisation in process automation."
Mr Herbstritt concludes his article by discussing further project requirements for actuators, such as non-intrusive functionality, the requirement for local operation centres, a redundancy concept, etc.
As I said, a very informative article indeed. If you haven't read it, then please drop me an
e-mail
and I would be delighted to forward a digital copy.
MORE…