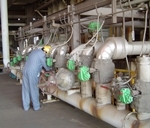 The unrivalled performance of the Rotork K-TORK vane type valve actuator has solved a difficult flow control application found in many coal-fired power plants – high-pressure bottom ash spray valve control.
High-pressure spray water is used to sluice bottom ash and pyrites from the boilers' hopper bottoms and to carry the ash out of the plant. The valves used are typically ANSI Class 300 double-offset high-performance butterfly designs ranging in size from 3" to 12", automated with double-acting actuators. They cycle from four to ten times per day and discharge to atmosphere, creating a very high pressure drop. The flow media is re-circulated ash water that is abrasive and flows at pressures between 400 and 500psi.
In plants owned by AEP, Duke Energy, Luminant Generating and other utility companies around the world, K-TORK actuators have provided over 10 years of maintenance-free service whilst preserving the life of the valves and valve seats in these arduous duties.
When assembled to the valve with a 'No-Play' coupling, the K-TORK actuator has zero lost motion, "slop" or hysteresis. The one-piece vane and drive shaft cannot be back-driven and will hold the disc of the valve firmly in place.
K-TORK provides the smallest torque-to-size ratio and the double-opposed lip seal design is forgiving to dirty or contaminated air. Also, the low-friction performance of K-TORK provides a speed-controlled, smooth valve operation, eliminating the risk of water hammer created by the high pressure drop.