FEATURED STORY
LNG project sets up Texas as "energy capital of the world"
A rendering of the Port Arthur LNG liquefaction project in Texas. Image ©SIP
Massive investments in LNG projects are setting up Texas as an energy hub on a global scale.
By Joanne McIntyre, Valve World
US energy infrastructure company Sempra Infrastructure Partners (SIP) recently announced the start of Phase 1 of the Port Arthur LNG project in Port Arthur, Texas in a joint venture with an affiliate of ConocoPhillips. With the project estimated to cost USD13 billion, it's yet another example of how the Lone Star State is becoming the energy capital for the US, and maybe the world.
"At Sempra, we believe bold, forward-looking partnerships will be central to solving the world's energy security and decarbonization challenges," said Jeffrey W. Martin, chairman and chief executive officer of Sempra. "With strong customers, top-tier equity sponsors in ConocoPhillips and KKR and a world-class contractor in Bechtel, this project has the potential to become one of America's most significant energy infrastructure investments over time, while creating jobs and spurring continued economic growth across Texas and the Gulf Coast region."
"Sempra's selection of Port Arthur as the location for a new natural gas liquefication and export terminal is a strategic decision that will cement Texas' position as the energy capital of the world," said Texas Gov. Greg Abbott. "With a highly skilled workforce and business-friendly climate, and as a national leader in LNG exports, Texas is the prime location to expand LNG operations to unleash the United States' full economic potential in such a critical industry."
Port Arthur Phase 1
The Port Arthur LNG Phase 1 project is designed to include two natural gas liquefaction trains, two LNG storage tanks and associated facilities with a capacity of approx. 13 million tonnes per annum (Mtpa). Total capital expenditures for the Port Arthur Phase 1 project are estimated at USD13 billion.
"Our strategic LNG partnership with Sempra will help supply growing global demand for natural gas, a lower greenhouse gas emissions-intensity fuel expected to play a critical role in the energy transition and global energy mix going forward," said Ryan Lance, ConocoPhillips chairman and chief executive officer.
Sempra Infrastructure has contracted with global engineering, construction and project management firm Bechtel Energy Inc. and has issued a final notice to proceed with the project. The expected commercial operation dates for Train 1 and Train 2 are 2027 and 2028, respectively.
"We're proud to partner with Sempra to deliver a world-class LNG facility. Building from mature, scalable energy technologies helps safeguard our energy supplies and promote the transition to lower-carbon energy," said Brendan Bechtel, Chairman and CEO of Bechtel. The Phase 1 project is expected to create an estimated 5,000 highly skilled jobs during construction and boost the economies in Port Arthur and Jefferson County.
Accelerating access
Part of Sempra's mission is to be a leader in North America's growing liquefied natural gas (LNG) export market, developing the infrastructure to bring cleaner, more reliable and more affordable energy to the world. Sempra's existing and proposed LNG projects are designed to leverage North America's abundance of natural gas through LNG exports to reduce its trade deficit, create jobs, meet global energy demand and improve the energy security of its allies.
Sempra's LNG operations work to provide US producers of natural gas with access to global markets. Sempra Infrastructure owns an interest in Cameron LNG, a 12 million ton per annum (Mtpa) export facility operating in Hackberry, Louisiana, and is currently developing additional LNG export facilities on the Gulf Coast and Pacific Coast of North America through Cameron LNG Phase 2, Port Arthur LNG in Texas and Energía Costa Azul LNG (ECA) in Mexico.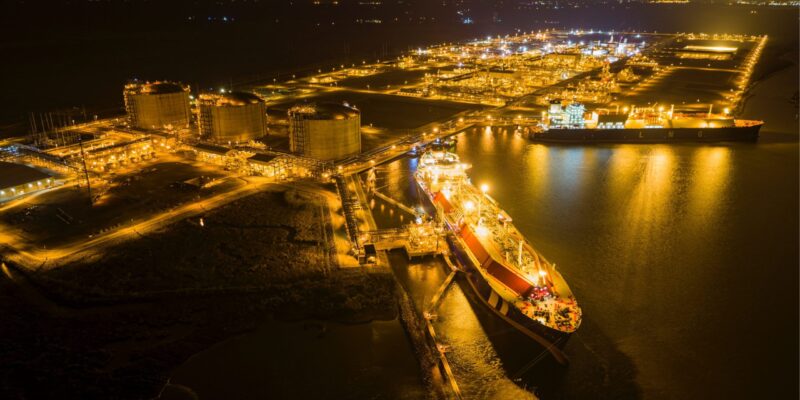 Texas, the LNG hub
Texas is one of the leading states in the United States for natural gas production and liquefaction. It has several LNG liquefaction plants that produce liquefied natural gas for export to other countries and is rapidly becoming known as the energy hub of the USA. The main LNG liquefaction plants in Texas with export to other countries are:
Freeport LNG has three liquefaction trains that can produce up to 15 million tonnes per annum (mtpa) of LNG. The first train began operations in 2019, and the second and third trains started operations in 2020.
Corpus Christi LNG has two liquefaction trains with a total capacity of 11 mtpa. The first train started operations in 2018, and the second train started operations in 2019.
Cheniere Energy Sabine Pass in Louisiana, also has a presence in Texas. It has five liquefaction trains with a total capacity of 30 mtpa, making it the largest LNG facility in the United States. The first train began operations in 2016, and the fifth train started operations in 2019.
Golden Pass LNG has three liquefaction trains with a total capacity of 15.6 mtpa. The first train is expected to start operations in 2024, and the second and third trains are expected to start operations in 2025. Golden Pass LNG is a joint venture between ExxonMobil, Qatar Petroleum, and ConocoPhillips.
Rio Grande LNG is currently under development. The facility is expected to have six liquefaction trains with a total capacity of 27 mtpa. Rio Grande LNG is a joint venture between NextDecade Corporation and a subsidiary of Royal Dutch Shell.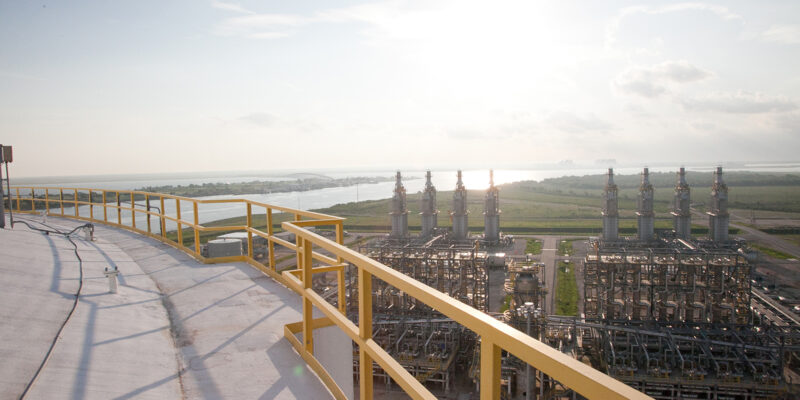 Valves in LNG liquefaction plants
LNG is produced through a process called liquefaction, which involves cooling natural gas to extremely low temperatures (-162°C) to convert it into a liquid state. To survive in these conditions, cryogenic valves must be produced from materials that will withstand these extreme temperature ranges. The main difference between cryogenic and standard valves is that they are able to work in low temperatures with high pressures.
Cryogenic valves have several unique characteristics that distinguish them from standard valves, including:
Material selection: Cryogenic valves are constructed using materials that can withstand low temperatures, such as stainless steel, bronze, or titanium. These materials have a low coefficient of thermal expansion, which reduces the risk of valve failure due to thermal shock.
Low-temperature sealing: Cryogenic valves must have a tight seal to prevent leakage at low temperatures. Special seal materials such as PTFE, PEEK, or Kalrez are used to ensure a tight seal even at extremely low temperatures.
Extended bonnet: Cryogenic valves have an extended bonnet that protects the stem and packing from the cold. The extended bonnet also provides additional insulation to the valve.
Slow operation: Cryogenic valves are designed to operate slowly to avoid thermal shock, which can cause damage to the valve. Slow operation allows the valve to adjust to the temperature changes slowly.
Testing: Cryogenic valves are tested at low temperatures to ensure their performance and reliability at these extreme conditions. These tests include cryogenic cycling, low-pressure gas testing, and high-pressure gas testing.
Overall, cryogenic valves are designed with special considerations to handle the challenges posed by extremely low temperatures. The materials, sealing, operation, and testing are all carefully selected to ensure safe and reliable performance in cryogenic applications.
About Sempra
Sempra is a leading North American energy infrastructure company that helps meet the daily energy needs of nearly 40 million consumers. As the owner of one of the largest energy networks on the continent, Sempra is helping to electrify and decarbonize some of the world's most significant economic markets, including California, Texas, Mexico and the LNG export market.
About Sempra Infrastructure
Through the combined strength of its assets in North America, Sempra Infrastructure is dedicated to enabling the delivery of cleaner energy for its customers. Its more than 2,000 employees develop, build and operate clean power, energy networks and LNG and net-zero solutions that are expected to play a crucial role in the energy systems of the future.
About this Featured Story
This Featured Story is an article from our Valve World Magazine, May 2023 issue. To read other featured stories and many more articles, subscribe to our print magazine. Available in both print and digital formats. DIGITAL MAGAZINE SUBSCRIPTIONS ARE NOW FREE.
"Every week we share a new Featured Story with our Valve World community. Join us and let's share your Featured Story on Valve World online and in print."