A major offshore development in the UAE, the Upper Zakum oil field project with an estimated value of USD 3.7Band Orseal are selected by the Phase 2 consortium (including Petrofac Emirates and Daewoo Shipbuilding & Marine Engineering – DSME), as one of more than 30 specialist sub-contractors for UZ750.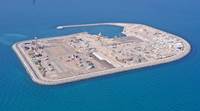 The UZ750 is considered to be one of the major technical achievements in Abu Dhabi, and oil production capacity is
set to increase to 750,000 bpd once the project is
completed – now in its second phase, being carried out
by Orseal's customer in UK for Petrofac and DSME.
With a mandate to significantly increase production at
Upper Zakum, a number of options were evaluated by
ZADCO who settled on the concept of artificial island-based
drilling and production centres, using ERD and MRC technology.
While both of these technologies have been applied in other parts of the world, they are new to this region and the projected scale of application at UZ750 is without precedent.
For this project, Orseal supplied a range of valves, from ½" to 12" manual operated and pneumatic actuated valves, to use in the vacuum pump package for SARB, material being carbon steel and ali-bronze (for seawater).