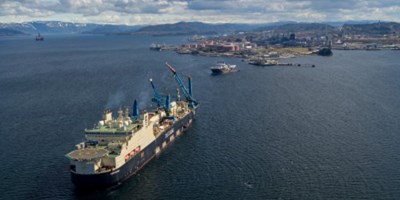 Soon the tip of the first pipe of what will become Norway's longest and largest oil pipeline will be pulled into the Mongstad terminal, north of Bergen. The 36" pipeline which will extend more than 280 km out to the Johan Sverdrup field once installed, is being pulled through a pre-drilled hole at the bottom of the Fensfjord into the oil terminal. At peak, the Johan Sverdrup field will produce up to 660,000 barrels of oil, which will flow daily into Mongstad.
The original plan was to route the pipeline onshore 10km from the oil terminal. At the time, it was not assessed as technically feasible to lay the pipe through the Fensfjord due to other existing pipelines in the area and possible subsurface instability.
Statoil commissioned a study in 2015 which showed that a subsea pipeline route was possible as long as infill support for existing pipelines was in place. After thorough preparations, the conditions have been put in place for the pipelaying operations.