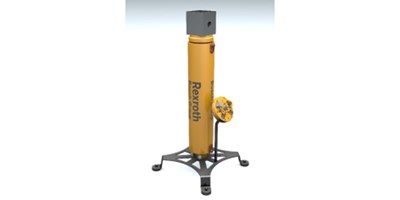 Rexroth has showcased a unique system for subsea actuation at the Offshore Technology Conference (OTC) in Houston, Texas. The Subsea Valve Actuator (SVA) is an electro-mechanical actuator with a hydrostatic drive, uniquely designed to complete the range of traditional hydraulic and all-electric subsea actuators for subsea control and production systems.
By combining the best features of electrohydraulic actuators and electromechanical actuators, Rexroth is revolutionizing actuator technology with the world's first hybrid Subsea Valve Actuator.
The SVA is an energy efficient system, in accordance with the Rexroth 4EE standard, minimizing the required peak and stand-by electric power. It is compatible with Industry 4.0 technology, the SVA includes various integrated sensors for e.g. monitoring position, pressure, temperature. Its cost-effective modular design uses industrial components and lean production management processes. Also, it possesses an environmentally-friendly set up with redundant pressure compensation and no fluid leakage. There is up to 75% reduction in comparison to all-electric actuators available in the market.