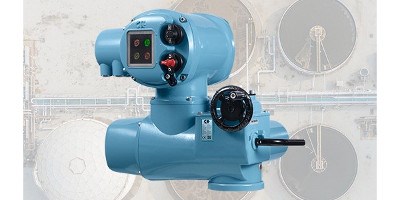 Rotork has increased the versatility of the CK range of modular electric valve actuators with the introduction of the CK Atronik, an intermediate level integral starter control option, providing a ready-to-operate actuation solution to meet the requirements of plant specifications.
The CK Atronik control module houses a reversing contactor starter with mechanical and electrical interlocking, a proven and reliable Rotork design for electric actuation. Connection to a suitable power supply is all that is required for local operation of the actuator.
Digital microprocessor driven functionality delivers reliable motor control for isolating, regulating or modulating valve duties. The configuration is simply achieved with onboard dual in-line switches. Integral local control selectors are provided, together with a clear LED status indication of valve open, valve closed, valve moving and alarm. Mechanical valve position indication is also provided on the actuator gear case. Options include analogue control for positioning, analogue feedback, additional relay, and network bus connectivity.
All CK modular actuators are environmentally sealed to IP68 (8 metres for 96 hours) as standard for long-term reliability in harsh operating conditions. Plug and socket connections for power, control and between modules assist swift site wiring and maintenance. Manual hand wheel operation is independent of the motor drive and selected with a lockable hand / auto lever acting on a safe, low-speed clutch. Separate thrust or non-thrust bases are available, enabling removal of the actuator from the valve without affecting valve position.
CK Atronik actuators can be specified for operation from single-phase or three-phase electrical supplies. For three-phase supplies, the maximum actuator output torque is 500 Nm (369 lbf.ft) in an output speed range of 9 – 230 rpm.