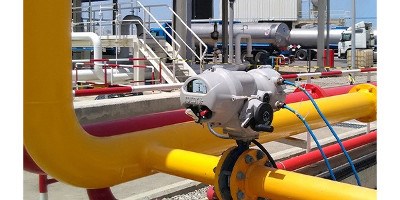 Rotork IQ3 intelligent electric valve actuators with Pakscan digital control network have been selected by Horizon Tangiers Terminals S.A. for the automation of their strategically important terminal in Morocco. The programme, designed to optimise storage capacity and increase security, involves the automation of tank inlet and outlet valves and firefighting water network valves.
Rotork has supplied over 100 actuators, including new actuated valve packages and actuators for the motorisation of existing gate and butterfly valves. In addition to supplying the products, Rotork's responsibilities include retrofitting existing valves, installing new actuated valves and commissioning. The actuators will be remotely monitored and controlled by two hot-standby Rotork Master Stations equipped with Pakscan digital control software, operated via a Distributed Control System by a Siemens PLC in the site control room.
The selection of the Rotork automation solution was assisted by the proven performance and user-friendliness of IQ3 intelligent actuation technology in many other hazardous area tank farm installations, combined with the local availability of technical support to achieve the objectives of the programme.
The actuators are IQ3 explosion-proof non-intrusive intelligent multi-turn and part-turn designs with double-sealed IP68 watertight environmental enclosures. As well as proven reliability, the IQ3 actuator incorporates advanced functionality facilitating predictive maintenance and asset management. The integral data logger records detailed operating information including valve torque profiles, valve operations, and alarms. Downloading and analysing this data can make a vital contribution to long-term asset management.
Pakscan is a digital control system designed specifically for valve actuators, with actuator, focused features that are unavailable from other designs.