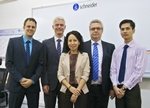 To consistently maintain their growth course of the last years in the sector of industrial valves, Armaturenfabrik Franz Schneider GmbH + Co. KG recently established their own company in the Asian region. The new location in Singapore functions as a hub and serves to acquire additional customers in what may be the world's most dynamic economic region. Additionally, the Asian customers will have a share in strengthening the headquarters in Nordheim, which will thus secure 300 jobs, and in ensuring optimised manufacturing capacities in the long term.
Tim-Frederik Kohler is the Chief Executive Officer of the independent subsidiary in Singapore. Mr. Kohler started working for SCHNEIDER in 2004 as a Sales Engineer in International Sales. Since the middle of last year, Mr. Kohler has been in Singapore, initially responsible for setting up the branch and since October for its development. The sales activities will be supported by Ana Laura Corzo Gonzalez in Administration and by Zulfan Syahputra in Technical Sales.
The first measure of the growth strategy for the Asian region is to consolidate the sales activities of the Asia-Pacific region in Singapore immediately. In the future, the already existing authorised dealers and customers will be cared for by "Team Singapore" and be partly supplied from the branch's stock.