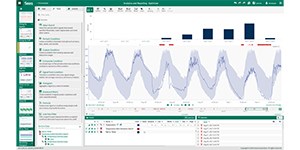 Seeq Corporation, the manufacturing and Industrial Internet of Things (IIoT) advanced analytics software company, announces the expansion of its efforts to integrate machine learning algorithms into Seeq applications.
These improvements will enable organizations to operationalize their data science investments, and their open-source and third-party machine learning algorithms, for easy access by front-line employees.
Seeq customers include companies in the oil & gas, pharmaceutical, chemical, energy, mining, food and beverage, and other process industries. Investors in Seeq, which has raised over USD 100M to date, include Insight Ventures, Saudi Aramco Energy Ventures, Altira Group, Chevron Technology Ventures, and Cisco Investments.
Seeq's strategy for enabling machine learning innovation provides end-user access to algorithms from a variety of sources, rather than forcing users to rely on a single machine learning vendor or platform.
The Seeq initiative also addresses the critical 'last mile' challenge of scaling and deploying algorithms in manufacturing organization by putting data science innovation in the hands of plant employees in easy-to-use applications: Seeq Workbench for advanced analytics, Organizer for publishing insights, and Seeq Data Lab for ad hoc Python scripting.
This is in addition to Seeq support for the foundational elements of success with machine learning. This includes access to all manufacturing data sources—historian, contextual, and manufacturing applications—for data cleansing and modeling, support for employee collaboration and knowledge capture, quick iteration, and performance-based continuous improvement workflows.