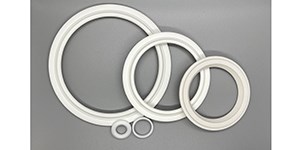 SEPCO adds high-performance plastic valve parts to its portfolio. Inspired by a special request from a valve manufacturer, SEPCO is pleased to announce that its P3 Plastics Division, based in Texas, now manufactures valve components.
A valve manufacturer recently needed quality seats (glass-filled PTFE), gland packing (PTFE), and bottom packing (PTFE) for valves, delivered quickly. Its team reached out to SEPCO and the P3 division and requested these components. The team rapidly produced and delivered the parts to the manufacturer.
"Our goal is always to provide high-quality, high-performance parts, but this is often only one piece of the puzzle. Adapting to our customer's needs, responding to new requests, and delivering quickly are vital as well, without which our total company picture is incomplete," said Cody Kaufmann, plastics business unit manager for SEPCO.
In addition to the components made for the manufacturer, others that P3 can produce include ball valve seats, energized seals, liners, and back-up rings. These can be PTFE, filled PTFE, PPS, or PEEK. P3 also creates many high-performance plastics available as machined parts, billets, or raw materials. Its location in the U.S. allows for quicker delivery than international parts.