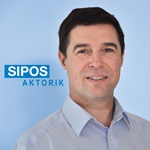 SIPOS Aktorik has expanded its management team with the appointment of a Head of Purchasing. Karl-Franz Müller is recruited to the position with responsibility for strategic purchasing and department management for the electric actuator manufacturer.
With a production output of around 12,000 units per annum, SIPOS Aktorik has earned a reputation for innovation with pioneering variable speed actuators which sit alongside standard actuation products. The senior purchasing role is therefore strategically important for SIPOS and Mr Müller joins the company with extensive industry experience and credentials.
Karl Müller moves from the position of Strategic Buyer with Schleifring GmbH. Previous posts have included Program Manager and buyer roles for SATLYNX GmbH. Practical electrical engineering experience also features on his CV with technical engineering positions for Friedrich Merk Telefonbau GmbH and Siemens AG. An impressive set of qualifications gained by Mr Müller include Master of Arts, Advanced Management; Master of Business Administration; Technical Management and Electric Engineering.