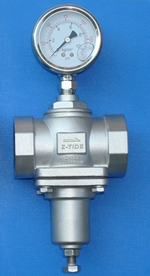 The P24 model titanium pressure reducing valve available from Red Dragon Valves in the UK was originally produced to meet the rigorous demands of Statoil's Gjoa offshore production platform. The P24 titanium pressure reducing valve is ideal for particularly arduous environments.
In addition to the improved corrosion resistance of the materials of construction, the P24 valve has a balanced piston design for high sensitivity and accurate control of downstream pressure fluids and can be supplied in sizes from ½" to 2" with adjustable pressure ranges of 1-6Bar or 4-10Bar. The Teflon coated diaphragm ensures sealing integrity from the spring chamber and with a maximum media temperature of 180°C, the P24 can be used on steam and other elevated temperature processes with an increased service life expectancy compared to conventional stainless steel valves.
The recent increased demand for titanium pipework has so far not been followed by widespread availability of matching titanium valves but with the P24 model, EPC and MRO contractors as well as their clients can be confident that they have selected the optimum solution.
Mr. Colin Wait, Product Development Manager at Red Dragon Valves commented that they have recently seen considerable increased interest in the P24 titanium valves for offshore and onshore applications where corrosion resistance and extended service life have been important factors. They are hopeful that this increased demand will allow their other reducing and sustaining valve models to have options for titanium construction in due course.