Value Valves have introduced a new technically improved centric type butterfly valve at 2016 Pumps and Valves Asia. This valve is used in applications such as HVAC, shipbuilding, petrochemical, fire control, sea water, flue gas, and desulphurization.
Value Valves products VF-8 Series high performance triple-offset butterfly valves and VF-9 Series high performance double-offset butterfly valves are designed for high temperature, high pressure, fire, corrosion and other harsh conditions. These valves are used in petroleum, natural gas, chemical, refining, and energy industries.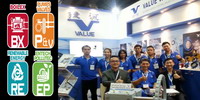 Value Valves have been exporting its products to the United States, Japan, Europe, Oceania and other advanced industrial and regions.
At the exhibition, Value Valves have attracted a lot of professional buyers in oil and gas industries as well as signed multiple contracts too.