For customers who demand quick delivery of a zero-leakage automated valve solution for severe service water and steam applications, ValvTechnologies' ValvXpress® package includes the superior quality of the V1-1 valve and ValvTechnologies' actuator, backed with the best four-year guarantee in the industry.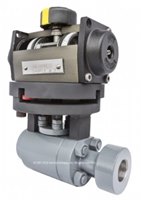 ValvTechnologies' proven V1-1 proven integral seat design provides improved performance, far beyond the wear-prone, corrosion-prone crevices of conventional seats. Engineered to eliminate leak paths and maximize direct flow, these units' enhanced rotary design and construction also deliver the extra safety margin crucial to maintaining peak productivity in severe service applications.
ValvTechnologies' ValvXpress® package offers cost-savings through inventory reduction, single-source solution and single-source solution. The valves are designed for ease of installation and maintenance.