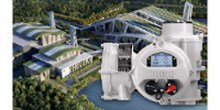 Rotork IQ3 electric multi-turn actuators have been installed at waste incineration and power generation plant in Bao'an, a district in the Chinese city of Shenzhen, which is set to become the world's largest waste-to-energy plant.
Shenzhen Bao'an Three Garbage placed an order for 400 IQ actuators to be used by Shenzhen Energy Environmental Company Ltd at the site, which will have the capacity to process 3,000,000 tonnes of waste per year when complete the equivalent of 700,000 tonnes of coal per year.
The actuators will be used to operate gate valves, globe valves, butterfly valves, ball valves, and dampers at the site which is expected to be operational by 2020. The IQs are being installed on plant processes including the waste heat boiler, as well as gas control, water treatment and public pipeline systems.
The product's reliable operation prompted Shenzhen Bao'an Three Garbage into specifying the actuators. The IQs will ensure daily domestic waste is incinerated on time with minimum downtime, allowing production to continue smoothly.
This is the second time Shenzhen Bao'an Three Garbage has used Rotork products after previously placing an order for IQs to be used in the second phase of the project six years ago.
Rotork's latest generation of IQ actuators features technical improvements including an advanced dual stacked display with configurable data logger technology and a setting tool with a secure Bluetooth® connection. The Rotork Bluetooth® Setting Tool can be used to configure and commission actuators as well as securely transfer data to a PC for analysis using Rotork Insight 2 diagnostic software.