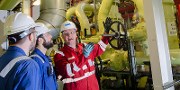 Weir Engineering Services, based in Alloa, Scotland have built up an extensive knowledge of supplying and servicing a large proportion of installed equipment throughout the majority of power stations within the UK.
Weir Engineering Services has worked closely with EDF Energy. The WES team have continuously optimised their processes and expertise in line with the expectations of their customer.
This has resulted in a mutually beneficial relationship, where Weir constantly challenges itself to better meet their customer's needs and works closely within the customer's processes to fully understand them. EDF Energy in turn, receives services that are provided in line with their expectations and carried out with their objectives in mind.
Looking ahead, WES is committed to further strengthening the service offering available to EDF Energy as well as evolving its capabilities to meet the needs of a changing UK market. Having also won a pump contract with EDF Energy under this total care approach, WES aims to expand this model to other sectors and customers, regardless of specific tender requirements.