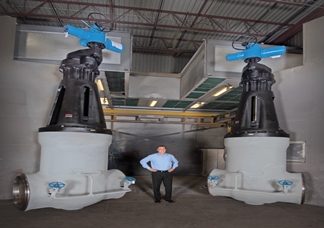 Situated on the coast at Chixi Town, south of Guangzhou in China's Guangdong Province, the Taishan Nuclear Power Station is expected to be one of the largest in the world. It is also China's first nuclear power plant to adopt the European EPR (European Pressurised Reactor) third generation reactor technology. The first phase of the project involves the construction of two EPR power plants, each with the world's largest capacity of 1750MW.
On the station's conventional island project, Rotork has supplied more than one hundred IQ intelligent electric valve actuators for Velan wedge gate and parallel slide valves. Manufactured in sizes up to 36 inches and pressure ratings up to Class 1500, these valves will perform feed water and steam isolation duties. The contract included sixteen high speed IQ91 actuators with secondary IS gearboxes fitted to 36 inch Class 900 parallel slide valves for feed water isolation. Weighing in at over 14 tons each, these are the largest pressure seal valves that Velan has ever manufactured.
The Rotork IQ actuators were specified for this contract and supplied through Rotork Controls Canada. Designed for maximum reliability with enhanced functionality, IQ actuators feature non-intrusive, intrinsically safe commissioning, data-logging and predictive maintenance capabilities. Reliability is enhanced by the double-sealed IP68 watertight enclosure, whilst the ability to download and diagnose operating data assists the planning and implementation of effective asset management with the minimum interruption to plant operations.