Electric actuator specialist AUMA has commissioned 77 actuators and four Modbus SIMA master stations at a refinery in Płock, Poland. The system is used to isolate tanks containing flammable liquids in the event of fire.
Płock is the headquarters of PKN Orlen, Poland's largest refiner and retailer of gasoline and diesel. The Płock refinery, one of six operated by the company, dates from the 1960s. Following a change in the law concerning fire safety in tank farms, PKN Orlen needed to improve the isolation system for tanks at its gasoline blending plant.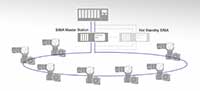 Working with local engineering company Prozach S.A., PKN Orlen chose 77 AUMA actuators fitted with AC .2 actuator controls to isolate around 20 tanks. The SIMA master stations, in redundant setup with Hot Standby SIMAs, provide supervisory control via the Modbus RTU protocol.
AUMA won the contract in the face of stiff competition from another supplier of electric actuators, several of whose digital control systems are already operating at the Płock refinery. Łukasz Wyrwiak, sales engineer at AUMA Polska Sp. z o.o., says the engineers at Prozach S.A. had worked with the SIMA system before and believed it to be the best technical solution for their client.
The SIMA system provides redundant control from different locations to maximize fire safety. If the Modbus loop is broken, the system maintains control of all the actuators on both sides of the break. Each SIMA loop is able to handle up to 247 actuators over a distance of 296 km using a conventional RS-485 cable. Entire communication is based on standard open fieldbus protocols.
The design phase of the project was completed in May 2015. The AUMA equipment was ordered in July 2015, and it was installed and commissioned in November and December 2015.
The system is now operating as designed and PKN Orlen is satisfied with the job. This was the first stage of a modernization project that will extend to around 200 tanks over the next few years. AUMA sales manager Grzegorz Cieśla says he is hoping for another order in the near future.