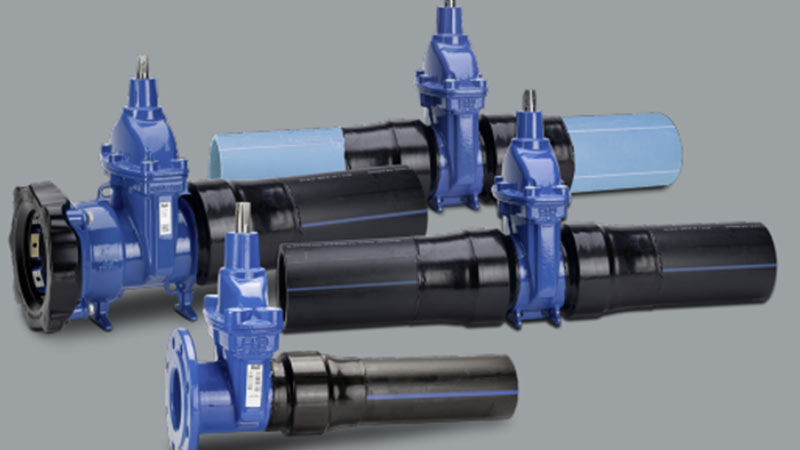 AVK recently revealed its new range of gate valves featuring its patented Supa Maxi universal tensile coupling end which connects to any pipe material as well as polyethylene (PE) pipe end that enables direct welding into PE pipelines. This fully welded PE pipe system offers a range of benefits including reduced risk of leakage, ease of installation, and enhanced durability. The versatile new gate valve offers a compact, flexible and easy transition from any pipe material to a boltless electro-welded PE pipe connection. The unique end design offers angular deflection and full tensile resistance, and eliminates the need for extra bolts, gaskets and couplings, therefore facilitating fast and safe installation with built-in shut-off.
The valve itself is based on AVK's renowned gate valve design with unique wedge and corrosion protection. AVK valves comply with the highest standards and hold worldwide drinking water approvals for coating, rubber, and brass materials, and for the valve itself.
The AVK gate valve features a fixed, integral wedge nut that prevents corrosion caused by vibration, while the wedge and body guide rails ensure stable operation. In addition, AVK's wedge rubber features excellent bonding, minimum formation of biofilm, and high resistance to water treatment chemicals. The valve also features an anti-blowout stem design, rolled threads to increase the stem's strength, and triple safety stem sealing.
AVK's Supa Maxi universal tensile coupling end features the patented SupaGrip sealing support system with a flexible bracket that provides superior tightness and tensile resistance on all pipe dimensions and materials.