FEATURED STORY
Digital supply chain poised to
change the energy industry
Angeline Goh is Global 3D Printing Technology Manager for Shell. She started exploring the potential of 3D printing Technology for the energy industry in her previous role, where she was looking at opportunities to improve the business performance of supply chains through the development of new digital planning tools. Her work since then keeps demonstrating, use cases after use cases, how 3D printing technology can transform the way Shell manages its material inventory and transform the energy sector's supply chain.
Angeline studied Mechanical Engineering, specialising in Production and Manufacturing. However, a course on rapid prototyping about twenty years ago planted the seed for a future career change.
"At that time, 3D printing was used for rapid prototyping," explains Angeline. "I never imagined that one day I would be working as a Global Technology Manager for Shell, focusing on this technology; sometimes, life takes an interesting turn!"
Angeline had a diverse career with Shell accross multiple divisions and countries spanning 21 years. She started as mechanical engineer in various refineries and in the liquidified petroleum gas (LPG) business before becoming a supply chain professional eleven years ago. She then led a team as a supply chain operations planning manager for the Shell lubricants business in Singapore.
Focus on supply chain
"I was motivated to focus on the supply chain because I wanted to learn how a business works and hone my commercial skills. I've carried out supply chain planning for our lubricant plants, covering the entire spectrum from managing strategic contracts to additive planning for the global lubricants business. Once I had a few years of experience under my belt, I joined Shell's global supply chain Center of Excellence. That was at a time when Shell invested in improving its supply chain."
Storage or waste?
Shell defines the supply chain as the movement of materials, tools, and people to an asset or operational site, so they can operate effectively throughout the lifecycle of the sites, from commissioning all the way to decommissioning, explains Angeline.
"My involvement focused on improving one significant issue common to the energy industry: there is a large amount of working capital tied up in inventory. How can we free-up this capital? By studying data on our operations, I was able to identify that items are stored in inventory for two main reasons:
their perceived criticality;
the lead time for acquiring these materials is too long and drives the need to store them.
However, storing items in inventory is not an efficient use of spare parts. In fact, we found that many items are kept on the shelf for their entire life without being used. We are storing parts just in case. Supply chain studies show that between 20% and 30% of stored items in an inventory will never be used1; when we compared this statistic to Shells assets, we found the same thing. Many items are never used and are actually wasted."
"Maintaining large inventories buys us a false sense of security because we think those items are available and ready to be deployed. However, the reality is that these materials must be correctly preserved to ensure they are fit for service when you need them, which may be years later, if ever."
Additive manufacturing
"Additive manufacturing (AM) caught my attention because I knew Shell had in-house skills for this technology. I wanted to learn how AM could change the paradigm of long lead times that we experience. Using this technology, we can shorten sourcing times by at least 75%. That can entirely transform how we buy and use material in Shell."
"I quickly became interested in working with a digital inventory, which I believe is necessary for us to operate responsibly while also creating supply chain resilience. It presents the opportunity for the various global assets to create new jobs and opportunities. That excites me because it means not only taking advantage of this technology but also delivering a multitude of benefits through the use of that technology to local communities."
A key principle in Shell's AM strategy is to work with local service providers when available to print spare parts close to their operations. Actually, the use-cases for 3D printing at Shell go beyond the management of supply chains.
The technology was first used for its research and development to develop novel equipment and rapidly prototype engineering designs. By enabling the printing of spare parts on demand and locally, the technology can positively impact the energy sector supply chain, reducing lead-time and carbon footprint.
Accelerating development
Angeline predicts that the digitalisation of supply chains will evolve with increasing speed.
"I am convinced this acceleration will be visible in the next two years. There has been a significant change in attitudes among
my peers in other energy companies and vendors in the three years I've worked with AM. There is a great willingness to share knowledge and collaborate."
A good example is the AM For Energy forum run by DNV – the internationally accredited registrar and classification society – where OEMS and end users like Shell share success stories, user cases, applications, and how to scale up. That willingness is amplified by the fact that in recent years, standards have started to be developed for applying AM in the oil and gas sector. Against that backdrop, energy companies are willing to work together to operationalise these existing standards into a process for a digital inventory ecosystem.
"It's exciting that our sector is increasingly willing to embrace AM technology, as it is more and more necessary for us to use material responsibly. Industry standards are key in this accelerated adoption. We will
all benefit from an operational standpoint because AM technology offers a tangible way to source material quickly for the future."
Avoiding bottlenecks
While the adoption of AM in the supply chain is evolving rapidly, Angeline points out two potential challenges that need to be overcome; quality management and the adoption of new business models.
"Energy companies are often under a lot of scrutiny from governments and society not to harm the environment, and safety is paramount to us. Quality management underpins all of the benefits we want to achieve with this technology." Failing to achieve the right quality level, she explains, would lead to negative environmental impacts (e.g. leaks of hydrocarbons) and/or lost production. It is paramount to ensure that the quality of 3D printed parts is properly managed and can be consistently repeated despite changes in distribution and manufacturing. Exactly how to do that is an issue that members of the digital inventory ecosystem need to discuss together and implement collectively.
Secondly, the adoption of digital spare parts requires a new business model. This is a journey that end users, OEMs and 3D printing service providers need to take together so that we have the opportunity to grow and map out a road map for the future.
"An important point is that the companies involved are at different levels of maturity. It will take time for everyone to understand what's required to build their new business model and discover how to be profitable".
Collaboration, a willingness to share information and grow together, and an enabling framework structure are the key ingredients for this journey to succeed.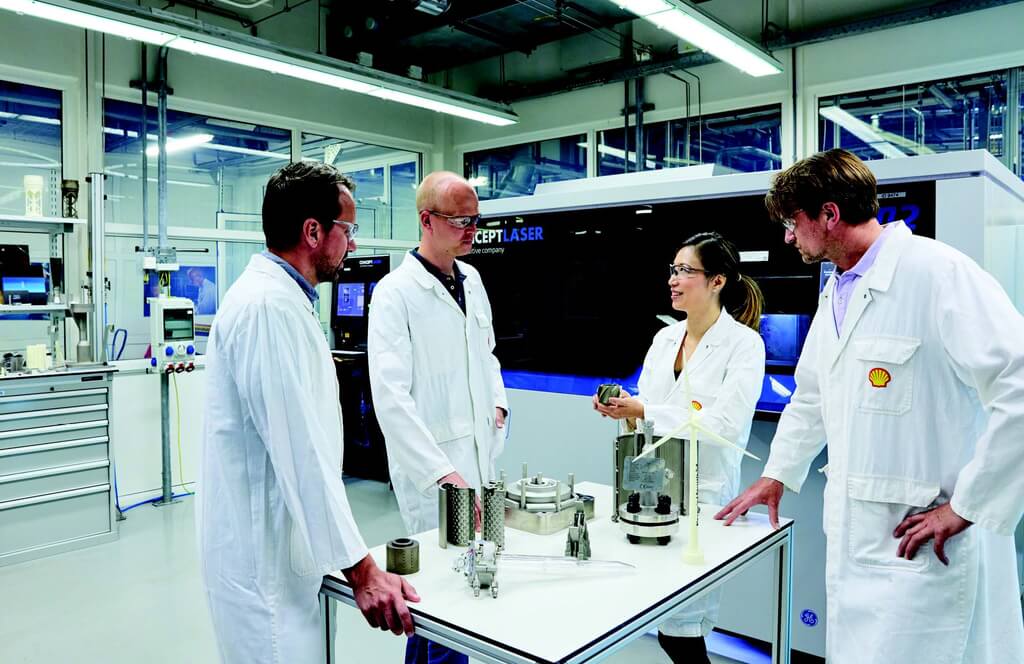 Optimistic for the future
Despite the challenges, Angeline is excited about what the future holds. "I'm very optimistic because I can see how this is already happening in other sectors. While AM is relatively new for the energy sector, other industries, such as aerospace, automotive, and consumer goods, are much more advanced. We can look to our sectorial peers to learn from them. There is no going back to the old way of doing things; for example, today, you can't imagine waiting months for your dentist to fit a crown because it has to be made in another continent, as used to be the case. People are used to the new standard: that items can quickly be customised. The energy business still needs to make that journey, and we cannot do it in isolation. We must consider what collaborative structure we need in the new business model."
AM Ambassador
Angeline is proud to act as an ambassador in the field of additive manufacturing.
"I'm passionate about sharing knowledge and information and pushing ourselves to spread success stories and learnings in various forms. That's why we go and speak at conferences with my team members. It helps to raise acceptance of the application of AM technology in the energy sector, allowing us to learn from other people in the field. This inspires us to grow better and faster."
About this Featured Story
This Featured Story is an article from our Valve World Magazine, January/February 2023 issue. To read other featured stories and many more articles, subscribe to our print magazine. Available in both print and digital formats. DIGITAL MAGAZINE SUBSCRIPTIONS ARE NOW FREE.
"Every week we share a new Featured Story with our Valve World community. Join us and let's share your Featured Story on Valve World online and in print."