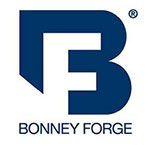 14496 Croghan Pike, Mount Union, PA 17066, USA
14496 Croghan Pike
Mount Union
Pennsylvania
17066
US
Founded in 1876 with an initial focus on forged and finished hardware, Bonney Forge has been devoted to producing the highest quality products since its inception. As the world leader in manufacturing fittings and valve flow control products, Bonney Forge exceeds industry standards by continuously striving to surpass expectations and deliver innovative and superior services. With over 140 years of experience, the company has forged a global reputation of manufacturing excellence.
Today, Bonney Forge is an integrated supplier of a full range of forged and cast steel valves, forged fittings and branch connections, with integrated in-house forging, machining, assembly and testing facilities. To meet the demands of its customer's most stringent requirements, Bonney Forge uses the highest quality material to meet and surpass the industry codes and specifications.  Materials include stainless steel, carbon steel, common alloys and exotic alloys.
Bonney Forge's manufacturing sites include:
Mount Union, PA – manufactures Bonney Forge's forged steel fittings, Olets® and forged steel valve products, this facility is geared towards high-volume production, utilizing the industry's latest robotic technologies.
Bonney Forge Europe (BFE) – serves as the hub of the company's forged valve production. Located in Bergamo, Italy, this state-of-the-art facility manufactures a wide-range of valves—from commodity to the most complex, made-to-order products. BFE manufacturers the following valve types: Gate, Globe, Check, Cryogenic, Integrally Flanged, Bellows Sealed, Extended Body, Bar stock, Combination Double Block and Bleed, API 6A, API 6D, Pressure Seal and Ball Valves – Soft Seated, Metal Seated for high temperature or abrasive service, Lip Seal, Cryogenic to −196°C, Top Entry and Side Entry, Fast Track Expedited Manufacturing.
Bonney Forge Shanghai (BFS) – serves as the heart of our cast valve operations. The product line offers cast GGC valves up to 36" and 2500#, and the facility specializes in low-emissions and submerged leak testing capabilities. The ever-expanding product portfolio now includes Cryogenic valves.
WFI International, Houston, TX – specializes in custom fittings—precisely made-to-order in any shape, size or material. A key capability of WFI is engineering fittings tailored to customer requirements for the most challenging applications and environments.
We are known for our unparalleled valve technology and engineering capability:
We craft Engineered Solutions, a program in which we work hand-in-hand with customers developing valves that stand up to their highly critical, demanding applications.
We built a state-of-the-art Fast Track facility at BFE, Italy, which functions independently from the main plant in order to manufacture, test, and ship urgent valves… FAST!
We continuously invest in both our forged and cast valve operations. Our cast product portfolio includes cryogenic cast steel valves perfect for low temperature applications. Our forged portfolio includes severe service trunnion mounted ball valves, which are great for aggressive midstream applications.
Our low-emission (Low-E) forged and cast steel valves are designed, engineered, manufactured, and tested to exceed all Global emissions standards requirements. Low-E Valves with our exclusive Eco-Seal® packing are the STANDARD at Bonney Forge not the exception.