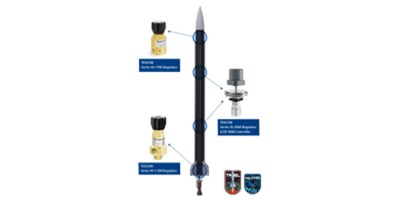 Emerson is sponsoring the Texas Rocket Engineering Laboratory (TREL) in the Cockrell School of Engineering at The University of Texas at Austin. Emerson will donate TESCOM™ regulators that students from this interdisciplinary research lab will use to fabricate TREL's historic Halcyon rocket.
More than twice the length of average collegiate rockets, the Halcyon rocket has a launch goal that's 338,000 feet higher than the current record for a bipropellant liquid propulsion rocket. More than 300 TREL engineers and aerospace pioneers have worked on the project since rough sketches began two years ago.
By donating TESCOM regulators for Halcyon, Emerson provides critical materials for the rocket's fluid systems. Located onboard, some regulators will maintain pressure levels within the fuel and oxidizer tanks during engine ignition. Others will manage the pressure of the reaction control system and the purge system that will shut down the engine post-burn, an action that is critical to the success of the mission.
With an established heritage in the aerospace market, Emerson's TESCOM product portfolio includes a broad range of standard and custom-engineered pressure control solutions that are cleaned to CGA 4.1 and ASTM G93 standards and conform to strict military and international standards. This comprehensive scope and quality assurance allow TREL to tailor its product selection and choose components that exactly meet or exceed the requirements.
The TESCOM products TREL has chosen for their Halcyon rocket include the 26-2000 Series air actuated regulator, which will be piloted by the ER5000 Series electro-pneumatic PID controller, for automated, precision control of the fuel tank pressures.
TREL also chose the 44-1500 Series pressure regulator, which will sit at the top of the rocket, to control pressure to the Reaction Control Stabilization (RCS) system; the 44-1300 Series pressure regulator to control the Main Engine Cut Off (MECO); and the BB-1 Series miniature pressure regulator to maintain the pneumatic supply to several components, including the ER5000 PID controllers.