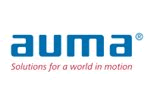 Aumastraße 1, D-79379 Müllheim, Germany
Tradition is our foundation stone
AUMA has been developing and building electric actuators and valve gearboxes for 50 years.
As a family-owned company, we are able to take quick decisions and are closely attached to our products and product quality.
Our well-grounded gained knowledge makes us to one of the world's leading manufacturers of electric actuators.
AUMA's performance is based on long standing experience and endeavours for continuous development and enhancement of our actuators and actuator controls
•  Direct cooperation with valve manufacturers and end users
• Competence in consulting and planning
• Own R & D department
• High vertical range of manufacture in state-of-the-art production plants
• In-house and external quality assurance
• Modular actuator and controls design
• Reliable calculation and appropriate price structure.
Starting at the AUMA headquarters in Muellheim -located in South Baden, Germany – we are present all around the globe, through numerous subsidiaries, service centers but above all with our knowledge in consulting and planning.
• Worldwide sales activities and local consulting
• Widespread approvals for supply
• Absolute adherence to delivery dates and trade
• Fulfilling international actuator specifications
• Close cooperation with international certifi cation authorities
Regular internal qualifications and trainings enhance the commitment to strive for our common goal: to improve our products every day.