Via Socrate, 10, 20864 Agrate Brianza, MB, Italy
10 Via Socrate
Agrate Brianza
Lombardia
20864
IT
Emme Technology, founded in 1996, is one of the worldwide leading manufacturers of actuators and accessories, sold under the Max-Air brand. We started manufacturing a line of specialty polymer-based quarter turn pneumatic actuators and soon after a full line of aluminium pneumatic actuators (17 sizes up to 3800 Nm) with patented design features that have become the industry standard for our partners worldwide.
Over the next two decades, Emme Technology expanded its product portfolio introducing special series such as:
• special rotation: 120°,135°,150° and 180° both double acting and spring return
• 3 position actuator and center return actuators (fail to the middle)
• Actuators for aggressive environments: ENP actuators, AISI 316 actuators, PTFE coated actuators and our patented Lock Mesh coating.
In 2021 Emme Technology designed a new range of scotch yoke actuators, the AG series, that provides superior performance and longevity with its 25-years design life; high-grade materials, precision machined components, and rigorous quality control results in a robust construction that outperforms the competition. The AG series is available with models K2-K3-K4 and the innovative compact solution of the K1 model, up to 40,000 Nm.
Complementing to the actuator range, Emme Technology developed a full range of accessories such as:
• Limit switch boxes for safe area, Intrinsically Safe Exia and Explosion proof Exd in techno-polymer, aluminium and stainless steel: CE, ATEX, IECEx, CSA/UL, NEPSI, INMETRO, SIL
• NAMUR solenoid valves in aluminium and stainless steel
• Gear boxes, positioners, and automation accessories
For 2022 and beyond, Emme will continue to invest in product innovation, including expanding into electric quarter-turn actuation, striving to earn the right to become "The Best Way to Automate Your Process."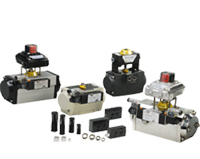 Applications:
Chemical, Food & beverage, LNG, Offshore, Oil & Gas, Onshore, Petrochemical, Pharmaceutical, Shipbuilding/Marine, (waste) water