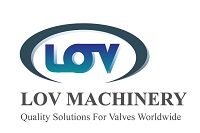 Building 18, Xingfu Industry Park, Yousheng Road, Beiqiao Town, Xiangcheng District, , Suzhou City, Jiangsu Province, China
Suzhou Lov Machinery Co., Ltd. has a dedicated professional team with long term exposure in valve industry, working together to design, manufacture and supply valve of special materials such as Titanium, Nickel alloys, Zirconium and corrosion resistance alloys. LOV valves are applicable widely to the petrochemical industry, oil refineries, offshore, pharmaceutical and other industrial process worldwide.
Forging and bar material stock, along with advanced CNC machining center lay a solid foundation for smooth production process in LOV. So far, LOV mainly concentrates on manufacturing of ball valve, check valve, gate valve, globe valve, butterfly valve, strainer. However, LOV can also offer tailor-made valve as per special requirements of customers.
We owe much of our success to quality and innovation, which have been the comerstone of LOV since its inception, and to our phllosophy of dynamic leadership.
With our highest level of flexibility, in-house production, technical know-how and dedicated staff, we look forward to being your first business partner in valves.