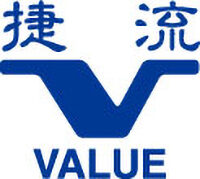 No. 9, Chung-Shan Rd. Tu-Cheng Industrial District, New Taipei City, 236 Taiwan.
9 Zhongshan Road
New Taipei City
236
TW
VALUE VALVES nowadays has been an international valve enterprise group gathers research development, design, manufacture, inspection and marketing. VALUE rank No.1 in the field of valve in Taiwan.
VALUE VALVES has been exporting its valve to the United States, Japan, Europe, Oceania and other advanced industrial and regions, furthermore, it has been a partner of BASF,MOBIL,SHELL,IHI,VEOLIA,SIEMENS VAI, Mitsubishi Heavy Industries, Kobe Steel and other internationally renowned technology, superior quality. The island of Taiwan's Formosa Plastics Group, Chi Mei Industrial Group, Changchun Chemical Engineering, Far Eastern Textile Group , Taiwan's China Steel, China Petroleum, China Shipbuilding Group and other large enterprises are also included. VALUE' s products are widely used in petroleum and petrochemical products, steel, shipbuilding, energy. water treatment, paper, air-conditioning, electronic and other industrial fields.
We are adhering to the entrepreneurial spirit "Value, Professional, Quality, Service, Innovation" and committing to build industrial fluid valve pipeline products, and we are looking forward to providing you with quality products and satisfactory service!
Check, Cryogenic, Integrally Flanged, Bellows Sealed, Extended Body, Bar stock, Combination Double Block and Bleed, API 6A, API 6D, Pressure Seal and Ball Valves – Soft Seated, Metal Seated for high temperature or abrasive service, Lip Seal, Cryogenic to −196°C, Top Entry and Side Entry, Fast Track Expedited Manufacturing.
■ Bonney Forge Shanghai (BFS) – serves as the heart of our cast valve operations. The product line offers cast GGC valves up to 36" and 2500#, and the facility specializes in low-emissions and submerged leak testing capabilities. The ever-expanding product portfolio now includes Cryogenic valves.
■ WFI International, Houston, TX – specializes in custom fittings—precisely made-to-order in any shape, size or material. A key capability of WFI is engineering fittings tailored to customer requirements for the most challenging applications and environments.
We are known for our unparalleled valve technology and engineering capability:
■ We craft Engineered Solutions, a program in which we work hand-in-hand with customers developing valves that stand up to their highly critical, demanding applications.
■ We built a state-of-the-art Fast Track facility at BFE, Italy, which functions independently from the main plant in order to manufacture, test, and ship urgent valves… FAST!
■ We continuously invest in both our forged and cast valve operations. Our cast product portfolio includes cryogenic cast steel valves perfect for low temperature applications. Our forged portfolio includes severe service trunnion mounted ball valves, which are great for aggressive midstream applications.
■ Our low-emission (Low-E) forged and cast steel valves are designed, engineered, manufactured, and tested to exceed all Global emissions standards requirements. Low-E Valves with our exclusive Eco-Seal® packing are the STANDARD at Bonney Forge not the exception.
Applications:
Chemical, Food & Beverage, LNG, Shipbuilding / Marine, Mining, Oil, Petrochemical, Power Generation, Pulp & Paper, Waste Water