32 Iyeon-gil, Sangnam-myeon, Miryang-si, Gyeongsangnam-do, South Korea
BOXY LINE BLIND
Line Blind has been used for perfect isolation of piping lines in various industries for safety purpose and it is the most reliable & economical way to perform zero leakage to downstream.
In the past, blinding a line was a costly labor-intensive process involving several personnel and equipment including cranes, heavy tools and occasionally scaffolding.
Boxy Line Blind replaces the typical blinding equipment(spectacle blind, blank or blind flange etc.) and provides quick & safe blinding. Any tools(spanner, wrench, bolts, nuts or cranes) are not required and blind position(open/close) can be changed by only handwheel within 1~5 mins.
Boxy Line Blind incorporates a tough and simple design that has been developed to provide absolute shut-off, long life and trouble-free service with minimum maintenance.
The unique and simple opening and cloosing mechanism of the Boxy Line Blind allow one person to isolate pipelines with ease, rapidity and safety.
– Perfect Isolation : Zero leakage to downstream
– Only one operator : Blinding by only one operator pipeline with ease and safety
– Quick change : Blinding pipeline by even untrained operator within 30 seconds ~ 5 minutes
– No need tools : No need any tools(Cranes, Spanner, Wrench, Bolts, Nuts and Gasket etc.)
– Safe working : Prevention of potential hazard(inhalation of potentially toxic fumes, spills of product and risk of explosion)
– Cost saving : Not only saving man hour cost but also increasing production time
– Non line spread : No pipe stress during operation
– Friction free : Unique gear-set mechnism provides perfect insolation without any contacting or rubbing of gasket
– Self sticking free mechanism : Unique gear-set mechnism prevents sticking problem of blind plate
– Simple structure : No maintenance parts except o-ring
[caption id="attachment_241995" align="alignleft" width="200"]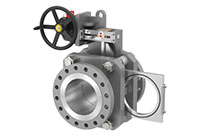 1. Sliding Type of Line Blind Valve[/caption] [caption id="attachment_241996" align="alignleft" width="200"]
2. Swing Type of Line Blind Valve[/caption] [caption id="attachment_241997" align="alignright" width="200"]
3. Boxy Type of Line Blind Valve[/caption]