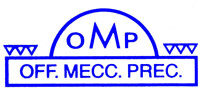 Via Aldo Moro 5 24030 Almenno San Bartolomeo ( Bergamo ) – Italy
13 Via Aldo Moro
Lombardia
24030
IT
OMP has been operating since 1979 in precision mechanics industry, manufacturing  special and standard components for the Oil & Gas, Chemical- Hydrogen, Pumping, Industrial, Water, Pulp and Paper, Sub-Sea.
Mission: establish long-lasting customer relationships which allow us to improve in procedures and acquire new skills, providing high quality products and ensuring adequate dealing times.
Products: production of hi- precision mechanical components for the following valves:
Ball and globe
Hi pressure- Cryogenic and Diaphram
Swing and Dual Check
Choke and Gate
Double Block and Bleed
Butterfly
Hydraulic and Pneumatic actuators
Hipps
Dimensions: inhouse: 1/2 "-12″, external workshops: up to 32 "
Services:
Cutting, turning, milling, drilling, tapping, grinding, lapping, EDM
Processing of materials: carbon steel, duplex and super-duplex steel, Monel, titanium, alluminium-bronze, special and exotic alloys
machining of components with welding overlay: F316, Stellite, Inconel 625, Incoloy 825
Complete supply of components with raw material certification 3.1 & 3.2
Riqualification 3.2 : destructive and non-destructive testing
Visual and dimensional report
heat and surface treatments
Coating , Cladding and welding overlay
Quality: ISO 9001 certified in the year 2016. Full traceability of each item from the origin by heat number.  Integrated management software – NDT testing, DP II level technician internally. Dimensional Inspection reports and surface finishing measurement.
Latest machine department interconnected 4.0:
MAZAK INTEGREX I400S, pickup spindle, 72 tool magazine, working dimensions: D.650×1500
DOOSAN NHM6300 horizontal machining center, pallet 650×650, U axis (D'Andrea head), working sizes: 1050/850/1000
DOOSAN NHM8000 horizontal machining center, 800×800 pallets, working sizes: 1400/1050/1200
DOOSAN PUMA V8300 vertical lathe, working dimensions: D.700×750
PUMA GT2600 horizontal lathe, working dimensions: D.400×650
Production capacity:
Stock: inhouse immediately available bars from diam. 10 to 350 mm
Cutting: bars and tubes up to diam.360mm
Turning: horizontal max. diam.300×700, vertical max. diam.1000×700
Milling: CAD-CAM 3/4 axis, over heads, boring and facing heads max 1000x1000x800
Grinding: flat max 1000×500 floor, round max D.300×600
Lapping: flat max 450x450x200
EDM: max 700x500x120 Wire
Post-processing: polishing sealing Ra up to 0.1, ultrasonic cleaning, pneumatic and laser marking
Heat treatments and surface coating: direct hardening and induction hardening, tempering, gas or salt bath or plasma nitriding with post oxidation .
Surface treatments: TCC tungsten carbide, HVOF, PTFE, silver plating, ENP nickel plating, burnishing and phosphating, hard and decorative anodizing, acid pickling, passivation, painting, sandblasting.
Non-destructive testing: visual, magnetic, liquid penetrant, UT, overlay thickness measurement, PMI
Material testing: chemical analysis, hardness, resiliency, corrosion tests
Checking: 3D Dimensional max: 500x500x700, roughness, hardness